A paradise Island. It truly is. 'Welcome to my Paradise' as the local reggae band Coconut Treez sings. Waterfalls, crystal clear blue turquoise tropical waters, black and white beaches, an (active) Volcano, lush rainforest, surfing waves, not yet overrun by mass tourism and deep rooted culture. Lombok have it all. So here are my thoughts, experiences, etc. after 2 months on Lombok, Indonesia.
First of all, it's a long way coming from Europe. I'm used to flying long stretches but going to the Indonesian Islands, no matter which one, is just long flying. The best flight from Amsterdam to Lombok is with Singapore Airlines. You go to Singapore and from there to Lombok with Silk Air. Transfer time is just 2 hours and, as we all know how big Changi Airport is, you gonna need that time. That is the fastest way, when coming from Amsterdam. And it's whopping 17+ hours. My flight was about 25 hours. Took a little detour over Kuala Lumpur and Shanghai. Watch the promotions on Skyscanner because they have, at times, some very very good offers.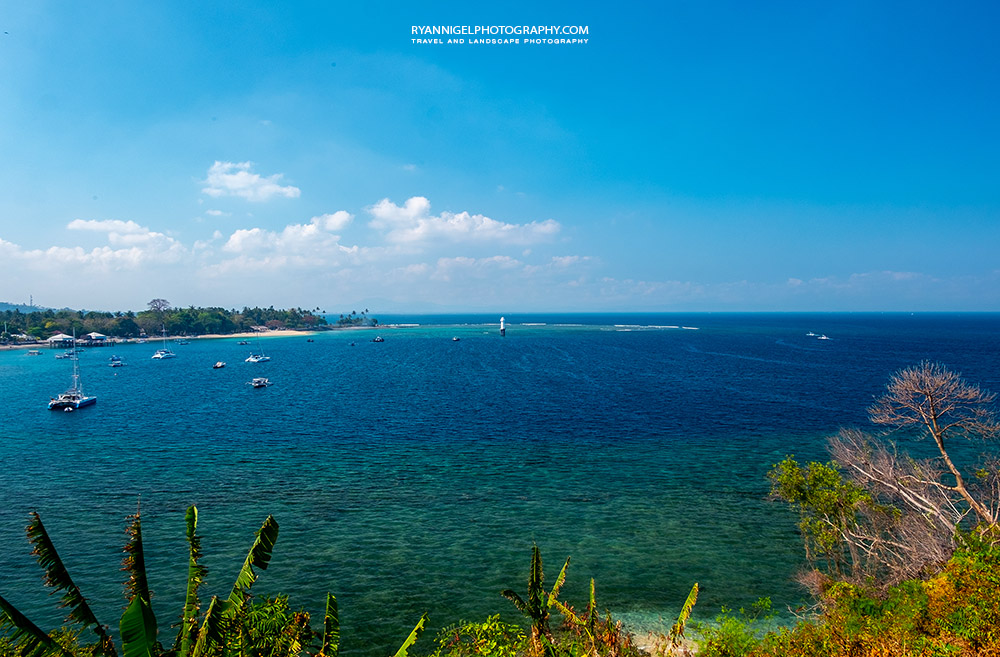 Lombok
I will not go into detail about facts and figures of Lombok. On Wikipedia you can find all the info. Also some other websites provide plenty of facts and figures so go there if you want to read it.
Lombok is the neighbour of the the over-crowded, overrun and over-developed Bali. It's just 60km east. From Bali, you can reach Lombok by one of the many many horrible speedboat services or just fly. Lombok is mostly known for the touristic Gili Islands. Gili Air, Gili Meno and Gili Trawangan. But what about Lombok Island itself ? Is it nice, are there things to do and see ? Hell yes ! I spend 2 months on Lombok Island and i am not done seeing it all. In fact i will go back to explore the rest.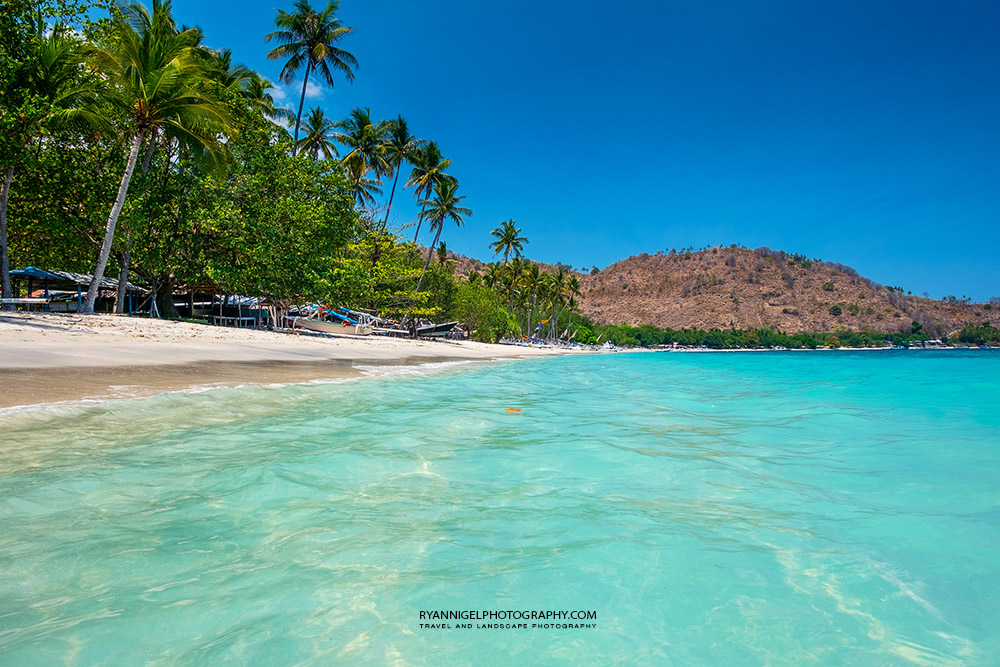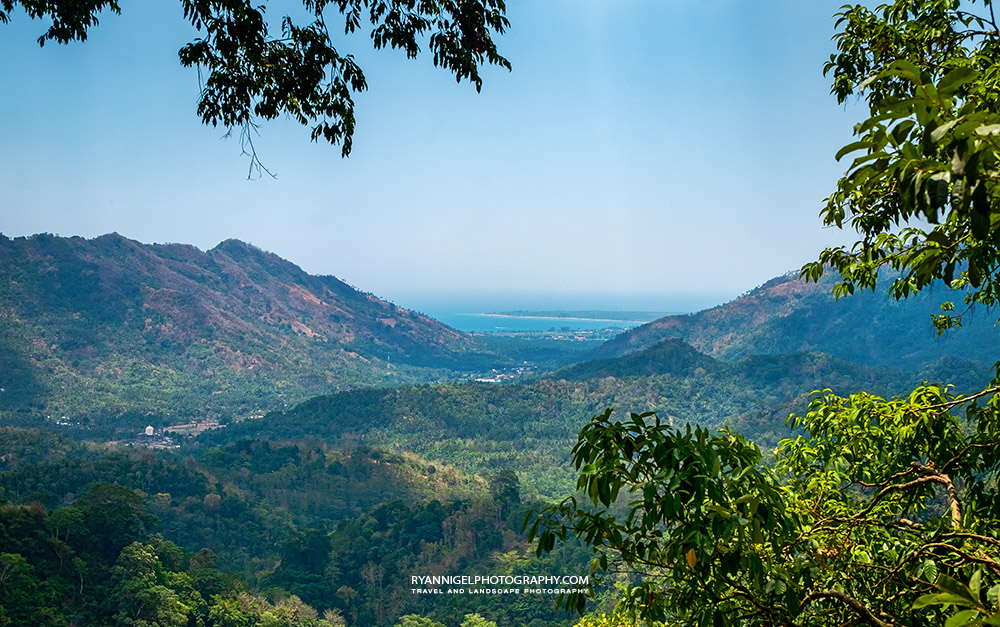 Tourism
Most of the tourism comes from Australia, Malaysia, England, Germany and Netherlands. Tourism is one of the main sources of income. Agriculture, rice farming and fish industry provide the rest.
Lombok is not your typical party island. Of course, in the tourist areas like Koeta and Senggigi there are plenty of bars and places but there are no big gigs, discos or party places. On the beaches you can find some small warungs (local restaurants) and some surf bars.
Most people who visit the South come for surfing. Selong Belanak Beach is the center for surfing. But on other beaches and in Senggigi as well, you have plenty of choice if you are into surfing.
The north, north west and a part of north east are all about waterfalls and Mount Rinjani. Lots of homestays and small guesthouses in Senaru Area. The heart to start your Rinjani treks. Due to the damage of the 2018 earthquake you should check if trails are open or still closed. At the time of my visit (Sept and Oct 2019) many trails and areas still closed.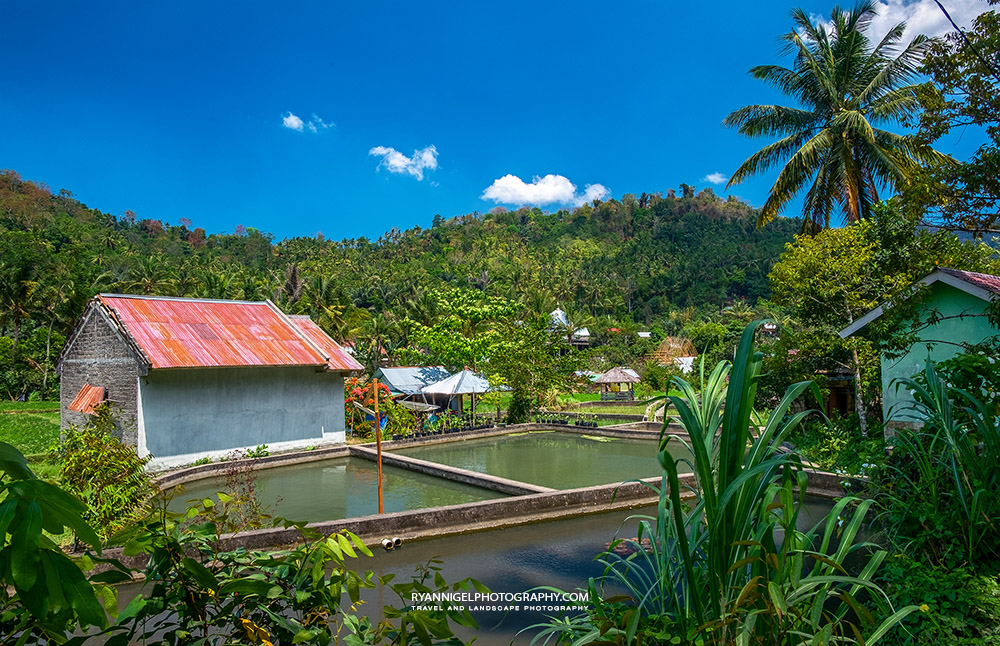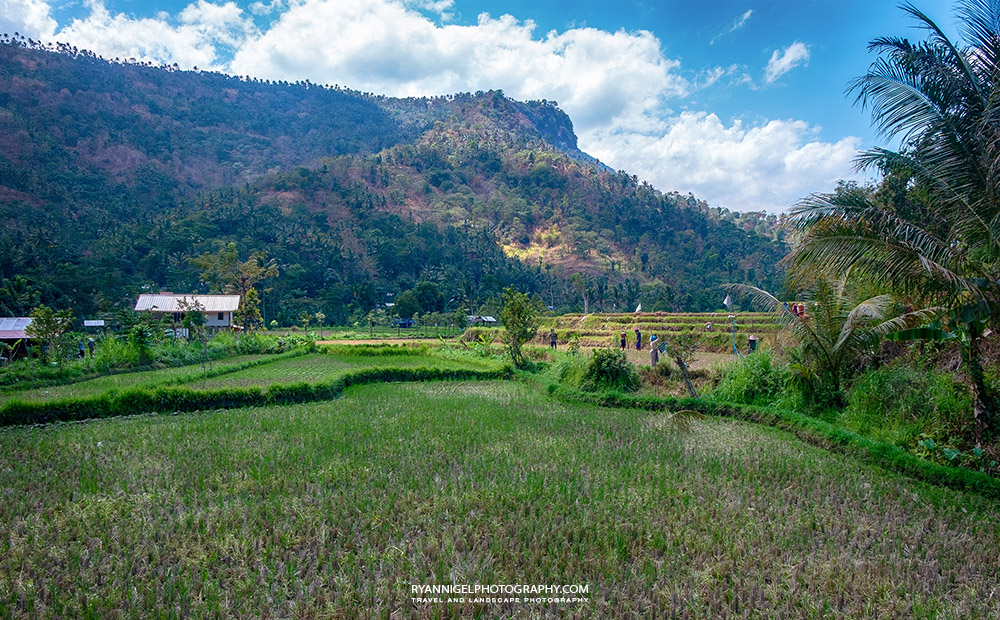 Earthquake 2018
As some of you know last year there was a heavy earthquake. 7.1 Richter scale and some heavy aftershocks. Lombok was devastated. Just about anything that stands was fallen over. It looked like a war zone. Now, more that a year after you can still see the deep wounds on Lombok. The island is recovering but progress is slow due to lack of heavy material and good infrastructure. The burocracy, etc. is also not helping alot. Also the climate change did it's work there: nearly no rain for nearly 1 year. Dry wells and rivers. Most of the debris has been cleared, Most people have received aid and are slowly recovering. Building new houses, making new roads, etc. Getting on with their lives.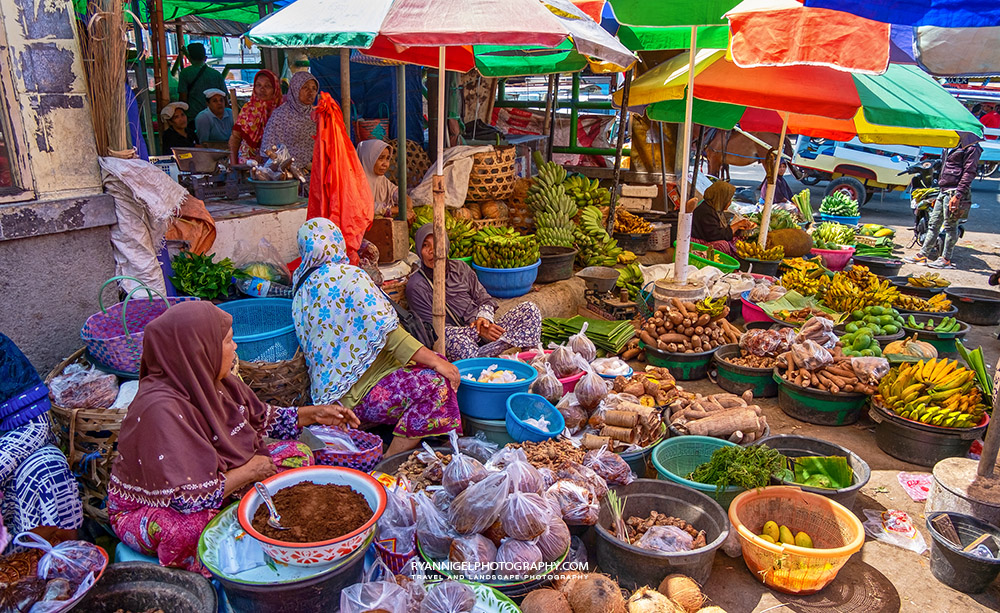 Size and Distances
Lombok looks like a small island, but it is far from that. Going from east to west can take you more than 5 hours. Not to mention north to south. Lombok is divided into 4 parts, North, East, South and West. The tourist areas concentrate on the South (Koeta or Kuta area) and the West (Senggigi). The best place to stay is Senggigi. From there you can tour Lombok Island and the drive times are acceptable. For example: from Senggigi to Benang Stokel and Kelambu Waterfall is about 1 to 1,5 hours. From Koeta it's about 2+ hours. From Senggigi to Senaru is 2+ hours. From Koeta at least 4 hours. From Senggigi to Koeta about 1,5 hours.
Google Maps works pretty well on Lombok. But add at least 1 hour to the driving times. Traffic is a killer 🙂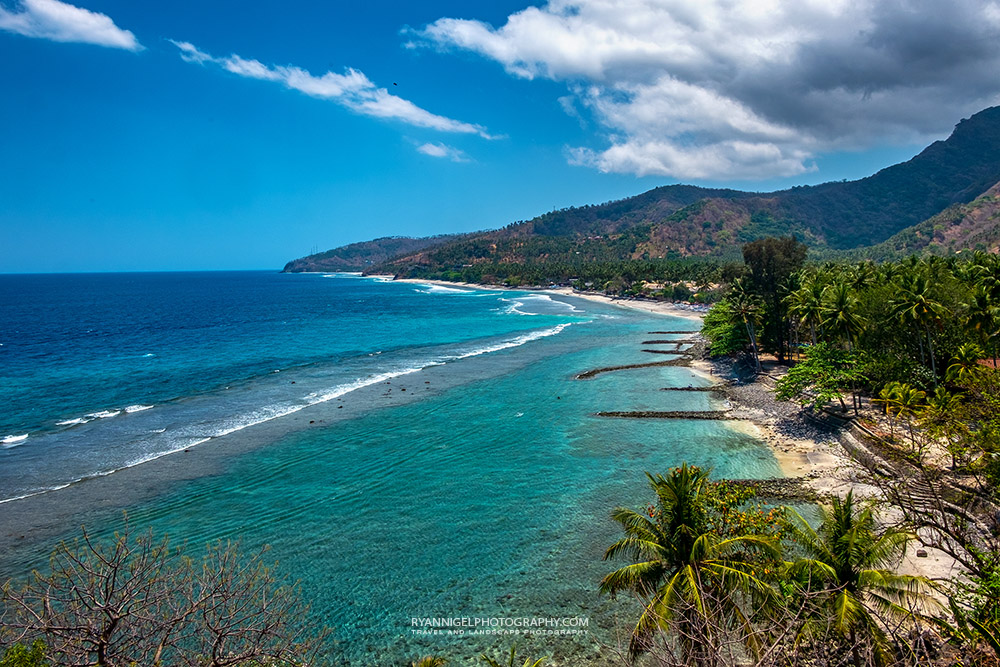 South
If you are into surfing and surfing only, stay in the South. That's the best place for surfing. Plenty of beaches with nice surf breaks ! Koeta, Selong Belanak, Seger, Mandalika and Gerupuk are famous places. One of the best hidden spots is Banko Banko in the South West.
The South is the place if you are into beaches. One of my favorites is Pantai Aan and Bukit Merese. Fantastic place and views. Next door you find Pantai Payung and Pantai Gerupuk also very very nice. Nice white sandy beaches and clear blue turqouise waters…. 🙂
The only downside from the South is that it is dry. You can see it in the landscape and on the beach. In the west you got palmtrees and other trees on the beach providing shady areas. In the south it's just beach…. But what a beaches !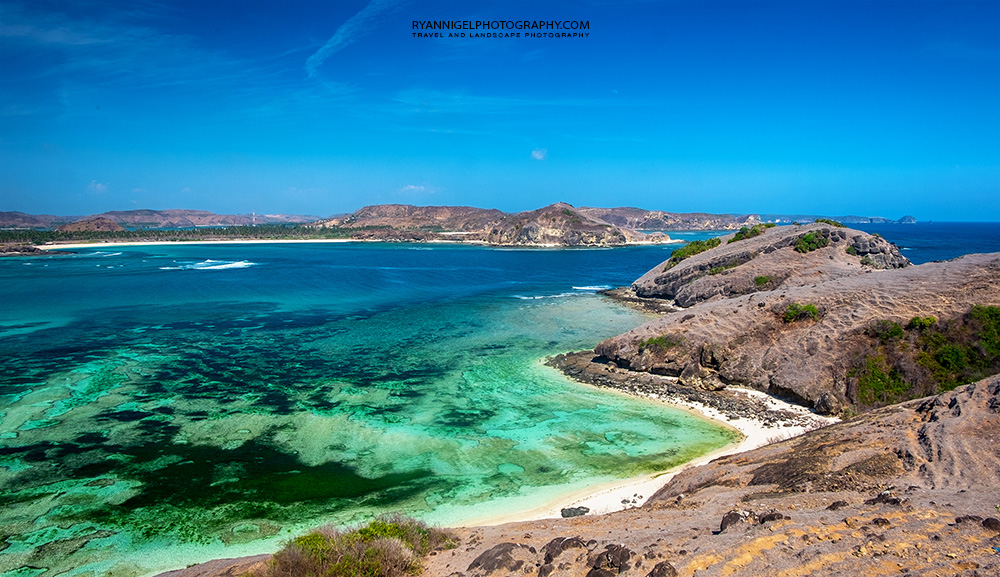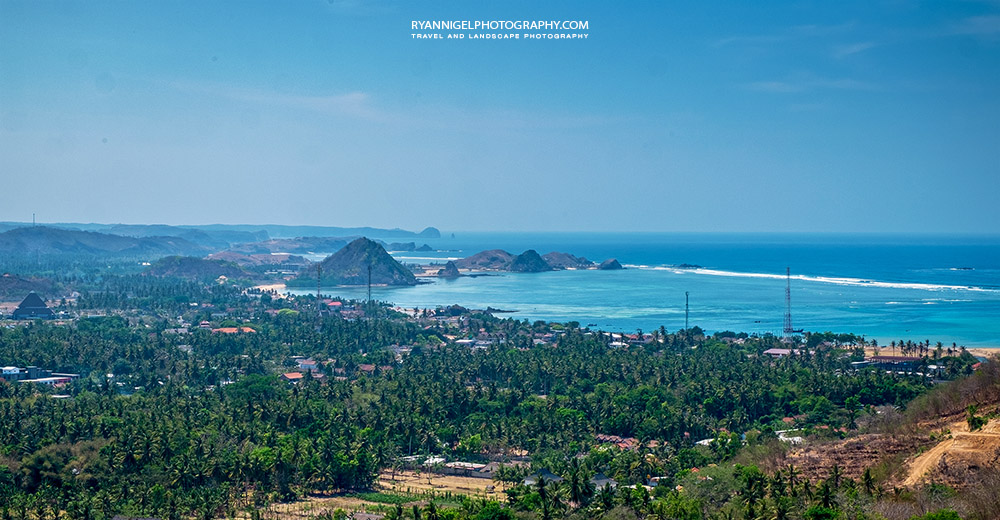 West
The West Coast. Senggigi and the capital Martaram offer an insight in local life, local food, markets and beaches. Also it is a good starting point to discover the North West. Plenty of very nice beach, clear waters and good local snorkeling straight from the beach. Nipa Beach, Mangsit Beach, Karandangan Beach offer great snorkeling spots and you can see many turtles. Corals are nice. But for the best snorkeling you have to go to the South West. To Gili Layar, Gili Ringgit and Gili Nanggu. Just stunnig underwater world. The South West Gili's are still quite unknown so it is not crowded at all. In Lombok Island Indonesia – part 2 i will explain more.
Martaram is the Capital and it's busy ! Many things to see like the Islamic Center (Lombok is Moslim), the Chakra Area with its 1000-1 shops. You can get anything there. Martaram hosts also 2 large shopping malls. Street food is plenty available. Taste the local food !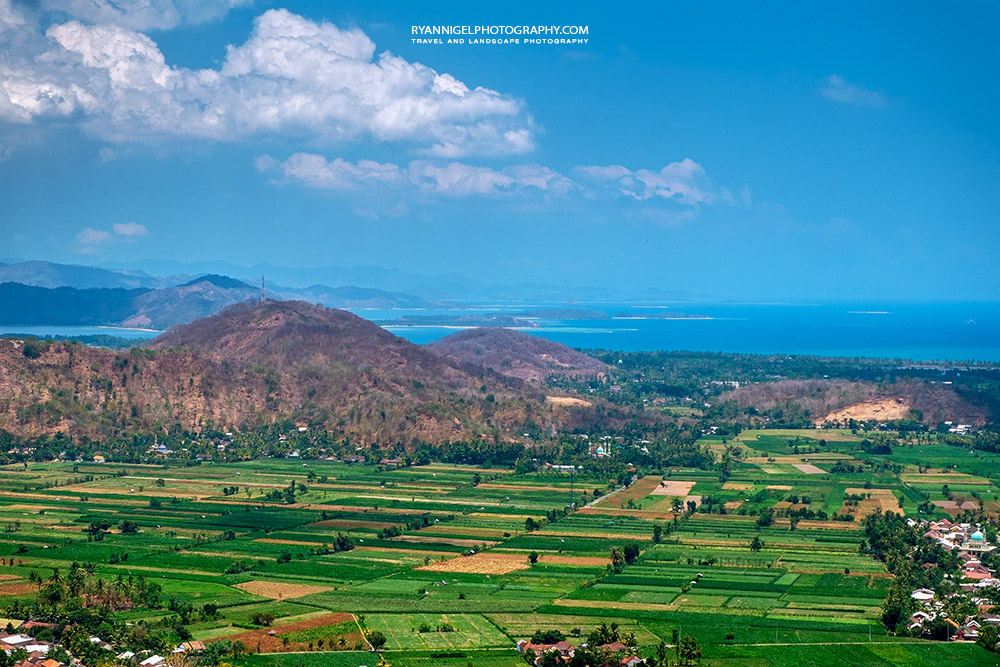 North and North West
The North West and North Coast. This is Rinjani territory. What ? Rinjani ?? Wasn't that a…. a… ? Yes, Rinjini the 3627m high active volcano. The landscape is green and lush. The many mountains in between the landscape offer plenty of hidden waterfalls. Many of them not yet discovered. And speaking about waterfalls…. go visit one or two or three. They are absolutely stunning. As said before, there was nearly no rain for a year, so some of them have very little water. When you want to see these stunning waterfalls, plan your trip just before high season, around April or May. All waterfalls are full.
Get your info
An interesting place is Senaru located in the North. Senaru is the home of Rinjani Treks. 1 to 5 days is possible. When you want to do a trek, check very very well with the local travel agency / tour counter. A lot of the info on the web is old and outdated. Some Rinjani trails are not open due to the damage of the earthquake. Senaru us also the home of 2 of the most visited waterfalls: Sendang Gile and Tiu Kelep. At Sendang Gile you can still take a shower but at Tiu Kelep you cannot anymore due to the damage of the earthquake. It is wise to check if certain places are open: the fantastic Tiu Teja and Tiu Bombong Waterfalls are closed due to heavy damage.
But there are plenty alternatives. You can visit the local villages, enjoy one of the many beaches, visit the stunning rice fields at Tete Batu and get an insight in local life. You will see the real Lombok 🙂 For good private tours around Lombok i can recommend Lombok Private Tours. They are specialized in private tours tailormade to your needs. Check out their website !
East
The East is largely unexplored. It is a quite undeveloped area. But there are some very very nice hidden places ! Yes ! The north east and east offer some very nice islands. Gili Sulat and Gili Lawang are off the north east coast. Move a bit more down east and you come to Gili Kondo (the Secret Island), Gili Lampu, Gili Pasaran and Gili Petagan. Getting there and staying there is not so easy. More about that in Lombok Island Indonesia – Part -2.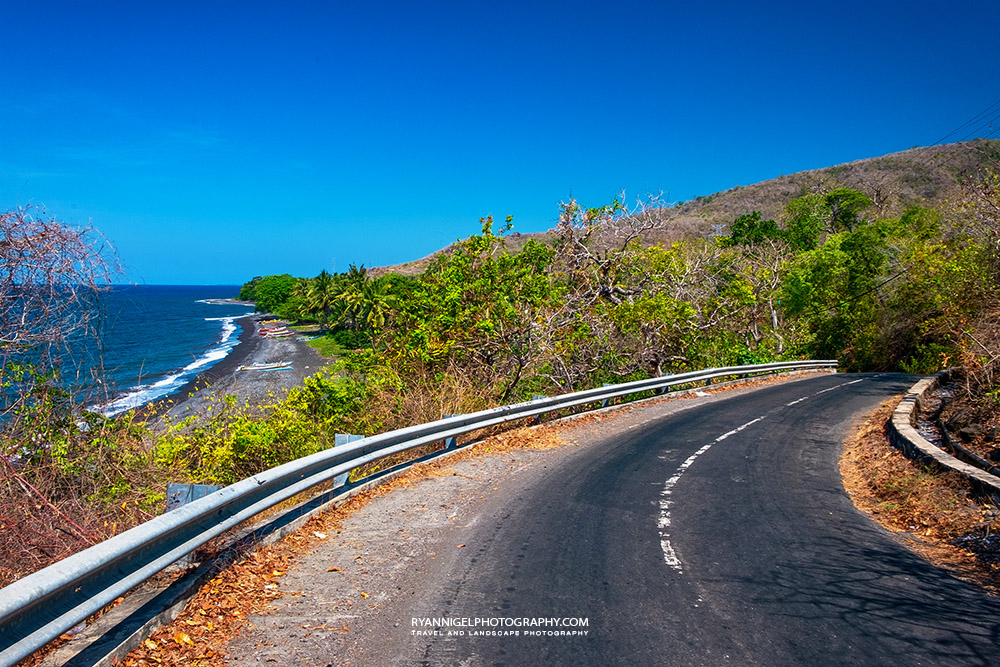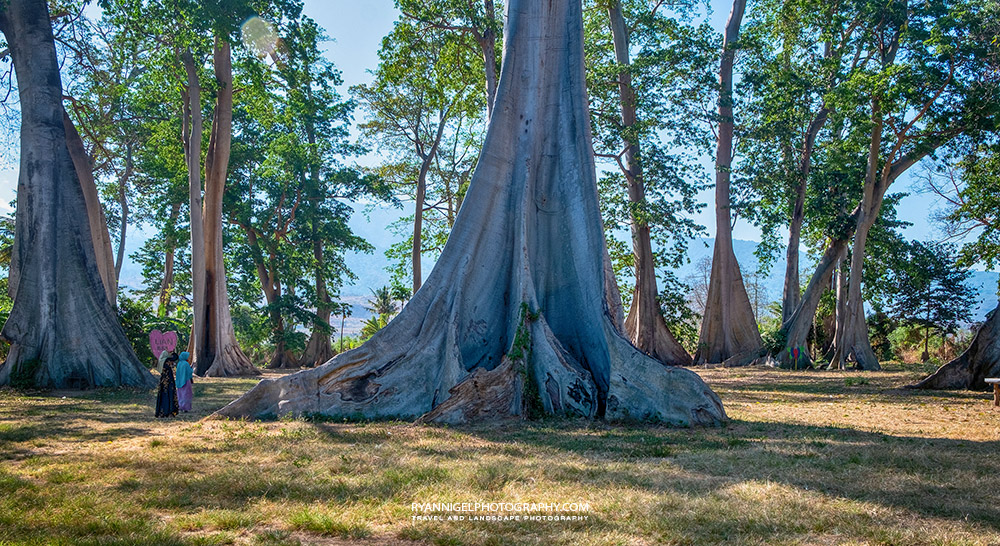 Another interesting site in the East is the Giant Trees known as Big Tree Sambelia. It's a very long ride from Senggigi (4+ hours). The giant trees are the biggest and oldest of Lombok and only grow in certain places in Asia and Australia. When visiting the Big Tree Sambelia you can cross the street and relax on the beach. You can see Sumbawa the next island. From Labuhan Lombok (20km further) you can take the ferry and visit Sumbawa if you like. The ferry trip takes about 2 hours.
How to get there
As said, Lombok is not easy to reach, depending were you are coming from. Coming from Europe: flights can take up to 25 hours ! Coming from Australia, depending which area, but for example Perth: it can take 4+ hours. As far as i know Perth is the only place in Australia offering direct flights to Lombok. From Sydney it's 8+ hours and multiple airlines.
Lombok has a small international airport called Praya Lombok International Airport. Transfers to and from the airport are all by taxi. Bluebird Taxi Lombok is the main taxi provider. I do recommend to pre-arrange you airport transfers. There is a Damri Bus but drives only to Senggigi area. Check the website from Lombok International Airport for more info. Taxi rides to and from the airport to Senggigi early morning or late evening can take up to 1 hour. Mid day and afternoon transfers can take up to 2 hours because of the insane traffic. 🙂 From Koeta (or Kuta) in the South it can take up 40 min. to 1,5 hours.
If you fly local in Indonesia there are plenty of flights. So it might be wise to check for the best connection from big hubs like Singapore, Jakarta and even Bali.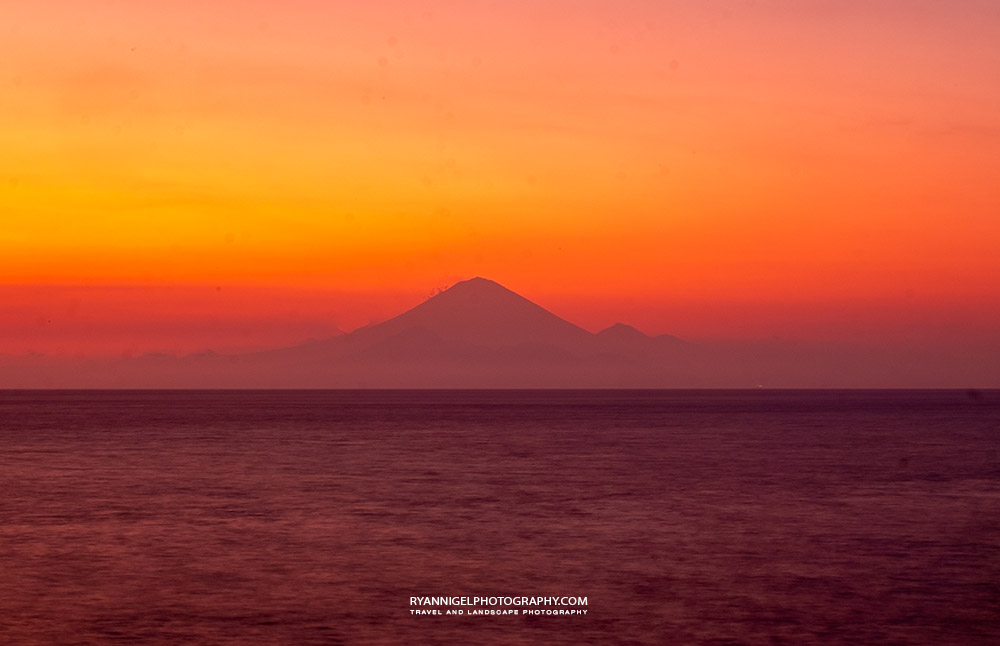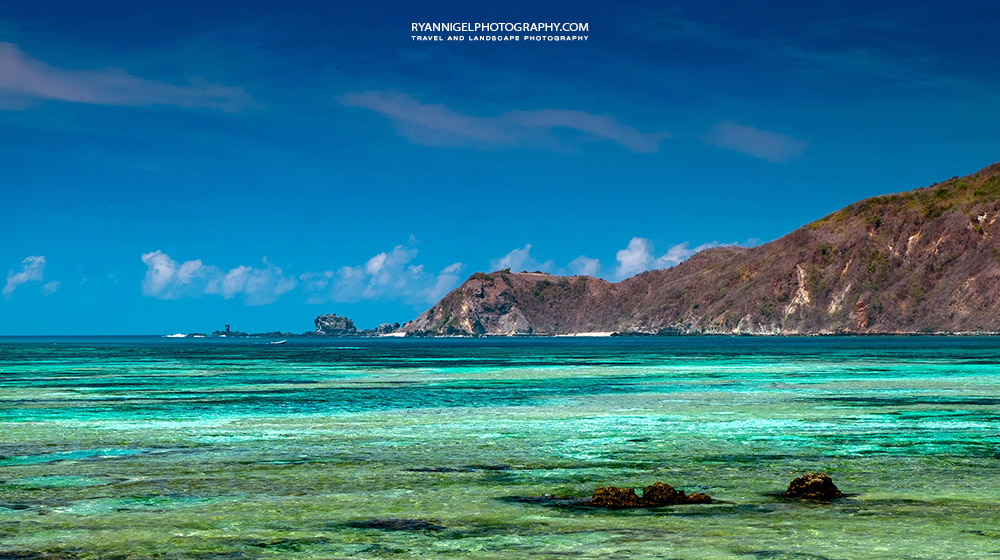 What to do and where to go
Lombok has plenty to do and to see. From Mount Rinjani in the North to the white sandy beaches in the South. from Senggigi in the West to Big Tree Sambelia in the East. From Tete Batu in Middle Lombok to Banko Banko in the South West, there is plenty and all different. Below a list of places definitely worth visiting. In Lombok Island Indonesa – Part 2 i will explain more about various places.
Senggigi Area (Batu Layar)
Senggigi Beach
Kerandangan Beach
Mangsit Beach
Nipa Beach
Padanan Beach
Malimbu Beach
Lendar Luar Beach
Klui Beach
The viewpoints along the way, just stunning !
Batu Bolong Temple
The mountains of Batu Layar
Puncak Pusuk
Martaram
Ampanan (Keboen Roek Local Market)
Narmada
Tigarasa Viewpoint
Visit the many Kampongs (villages)
Fishing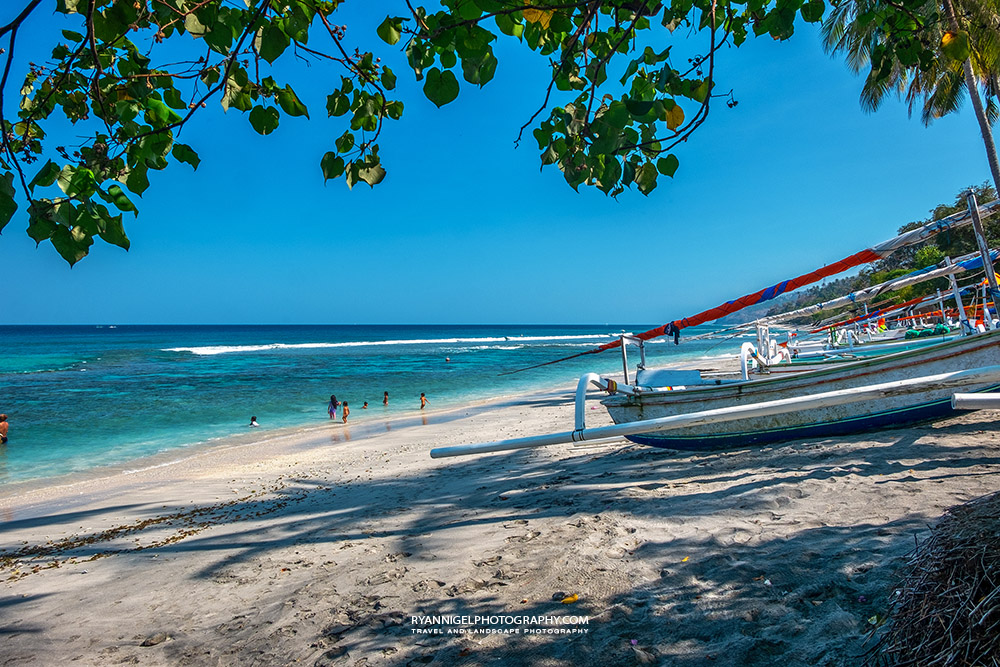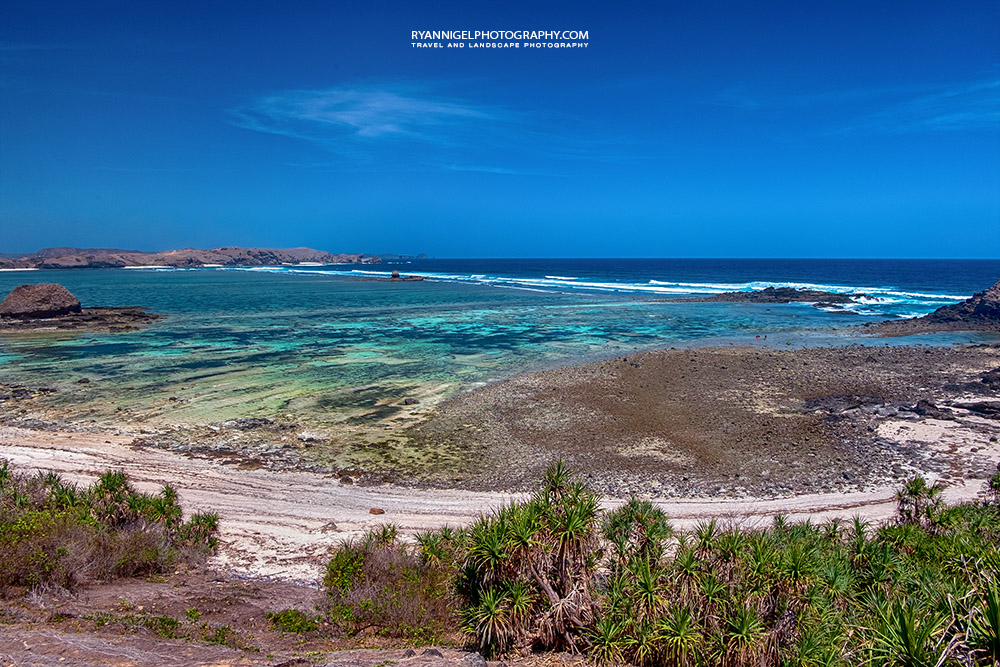 South West Lombok
Bukit Idung Viewpoint
Gili Layar
Gili Ringgit
Gili Kedis
Gili Kede
Gili Nanggu
Pantai Goa Landak
Lembar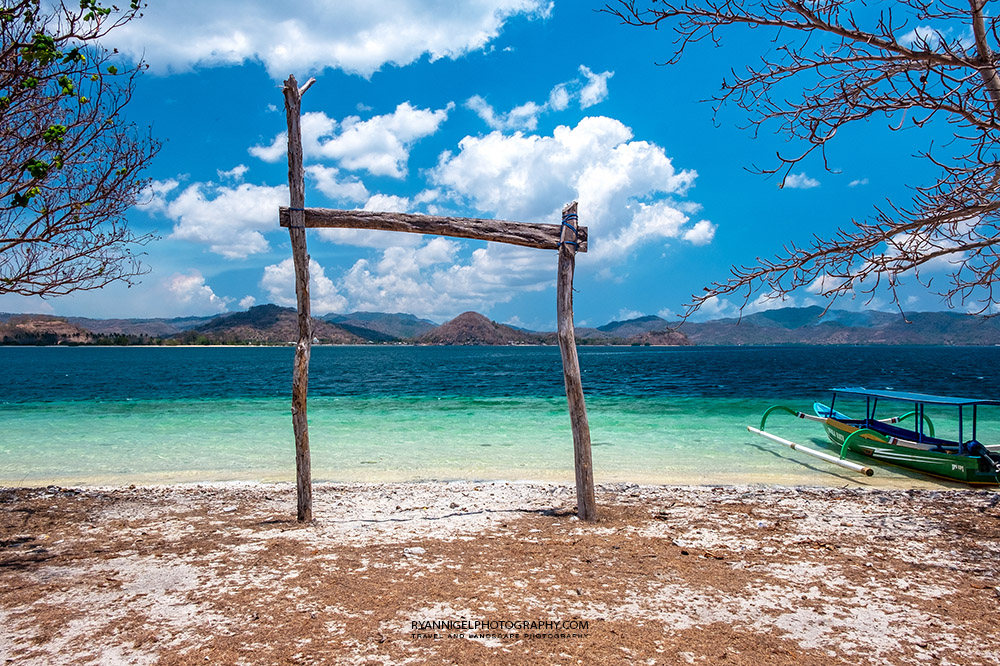 North West Lombok
Gili Air, Meno and Trawangan
Pantai Sire (Sire Beach)
Kerujuk Eco Village
Air Terjun Tiu Pituq Waterfall
Air Terjun Tiu Gangga Waterfall
If you like adventure and if you can find the Waterfall: Air Terjun Tiu Frendo Waterfall
The rice fields on the way
North Lombok
Mount Gunung Rinjani
Senaru
Air Terjun Tiu Sendang Gile Waterfall
Air Terjun Tiu Kelep Waterfall
For adventure: Air Terjun Tiu Mangku Sakti Waterfall
For adventure: Air Terjun Tiu Mangku Kokoq Waterfall
One of the other waterfalls in the area, there are plenty !
Middle Lombok
Tete Batu Ricefields and area
Benang Stokel and Benang Kelambu Waterfalls
Suranadi Nature Park
South Lombok
Selong Belanak Beach
Koeta Beach
Mandalika Beach
Seger Beach
Aan Beach
Payung Beach
Gerupuk Beach
Pink Beach
Bukit Merese
Goa Kotak
Tampah Beach
Bukit Bertingkat
Munah Beach
Air Terjun Nambung
Fishing
East Lombok
Big Tree Sambelia
Gili Sulat
Gili Lawang
Gili Kondo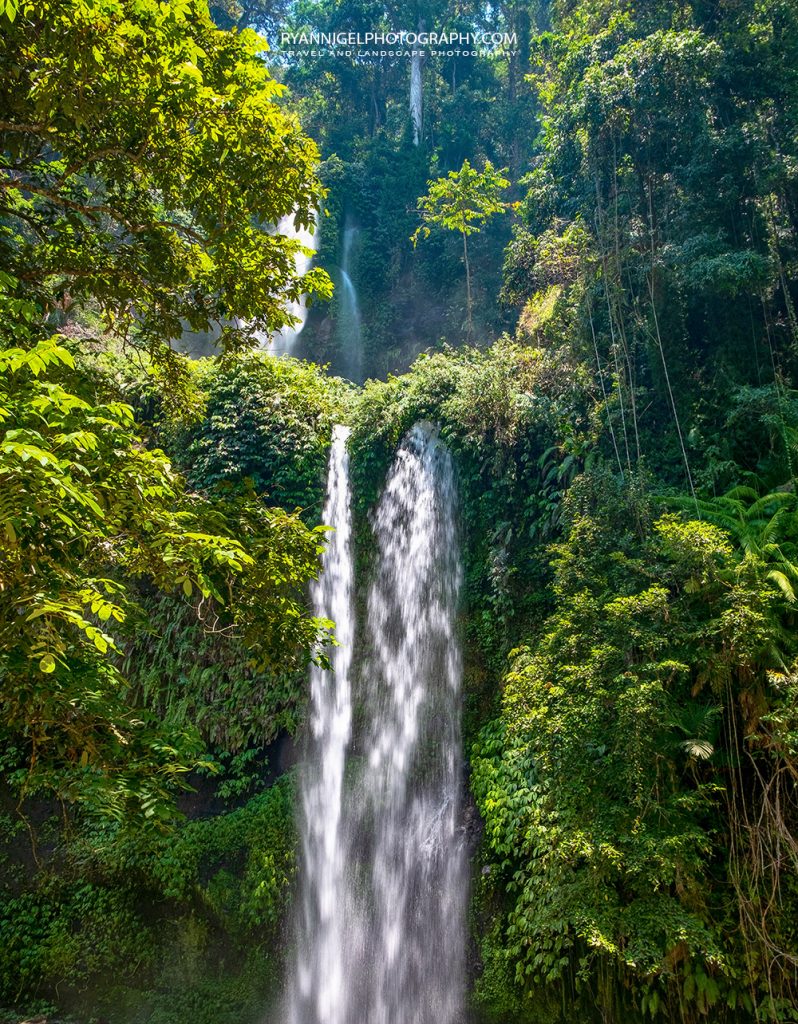 Photography
If you are a (travel) photographer like me, bring your best gear. 🙂 There is just so much to shoot. Bring filters, CPL, ND and Haze. Bring wide angle, standard zoom and tele zoom ! And bring an underwater camera aswell. Bring a GoPro, just bring it all ! I would recommend zoom lenses over primes because of the landscape. At parts it's just not possible to zoom with your feet. Certain areas are just not so accessible. But seriously, there is plenty to shoot. The waterfalls, the ricefields, the beaches, the local life, the sea, the underwater world.
Plan your trip right
If you go for the photography, plan your trip in the right time. I was there in September and October and it was hazy, very hazy. No rain, nearly no water in the waterfalls (well some have) but the beaches and the sea where very nice. Plan your trip around April or May just after the raining season and just before high season. You still get days with rain but the haze will be gone, the rainforest is green and lush and the waterfalls have plenty of water.
Photos
Click to view larger size