So here in part 2 i will explain more about Lombok places to see and things to do as mentioned in the list in Lombok Island Indonesia – Part 1. Most of the places i have visited myself so plenty of photos and stories. 🙂 But before we get to that, first things first and that is moving around on Lombok Island. 🙂 And that can be quite an adventure !
Moving around on Lombok
I like motorbikes. Big ones, small ones. It doesn't matter. 🙂 And motorbikes are the best way to discover and explore Lombok Island. Along the way exploring Lombok and off the beaten track you will discover that, sometimes, you need a more powerful motorbike. 🙂 Especially when you drive with a passenger. Some climbs up the mountains can be quite steep, i mean very steep. Think 45 degrees up.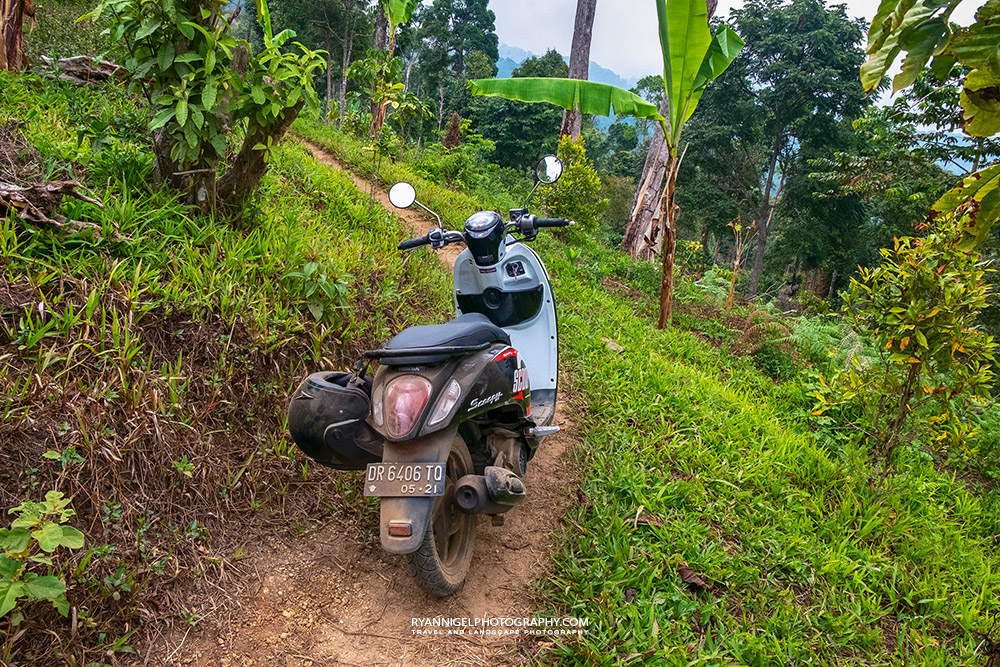 Besides a powerful motorbike you need to check the brakes. So what goes up must come down, and some of the decents are very steep and curvy as well. The area at Sembalun (on the Rinjani slopes) have some very steep climbs and very steep decents. Power and good brakes are no luxury. Good tyres are also no luxury. To get to the waterfalls for example, in 99,9% you need to take a rock or dirt track. Of course with some steep climbs and decents.
On the road in Lombok
Sometimes the road just stops and goes further as a dirt track with loose sand and gravel 🙂 Now it's not all the that bad. The main roads are actually pretty okay. The roads in the capital Mataram are great. The highway to and from the airport is good to test the maximum speed of your motorbike and the ring road around the island is in general good. It's just the insane traffic ! Really ! Monkeys, cattle, horses, plenty of cars in all forms and sizes, all at their own speed. Not to mention the motorbikes that jump out the small streets hitting the main roads.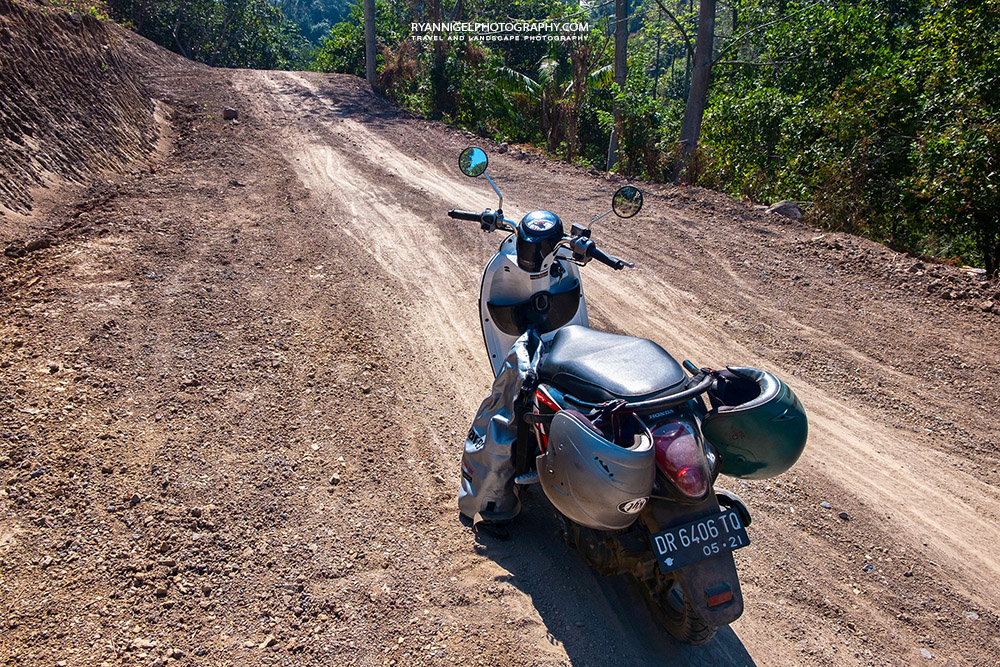 Mirrors to see what's behind you are not being used. 🙂 And it's no joke. Really it isn't. People just don't look what's behind them. So when you decide to go explore Lombok by motorbike just be careful.
Another option is a car with private driver. This is an expensive option. Also when moving around on the island, motorbikes are way faster. Due to the small roads cars get stuck behind all kinds of traffic and with a motorbike you just pass it or overtake it easier.
Lombok places to see and things to do
Were to start in this plenty of places to see and things to do. Since i started in Senggigi and Karandangan let's move from there.
West Lombok – Senggigi Area
Senggigi (and the greater area) is one of the main tourist areas. The main road is decorated with hotels, travel counters, motorbike rental, bars, restaurants, shops and supermarkets. There is plenty of beach, nearly all deserted. The beaches are mostly black sand beaches, volcanic sand. The seawater is cooler that the in the South but still nice clear and blue.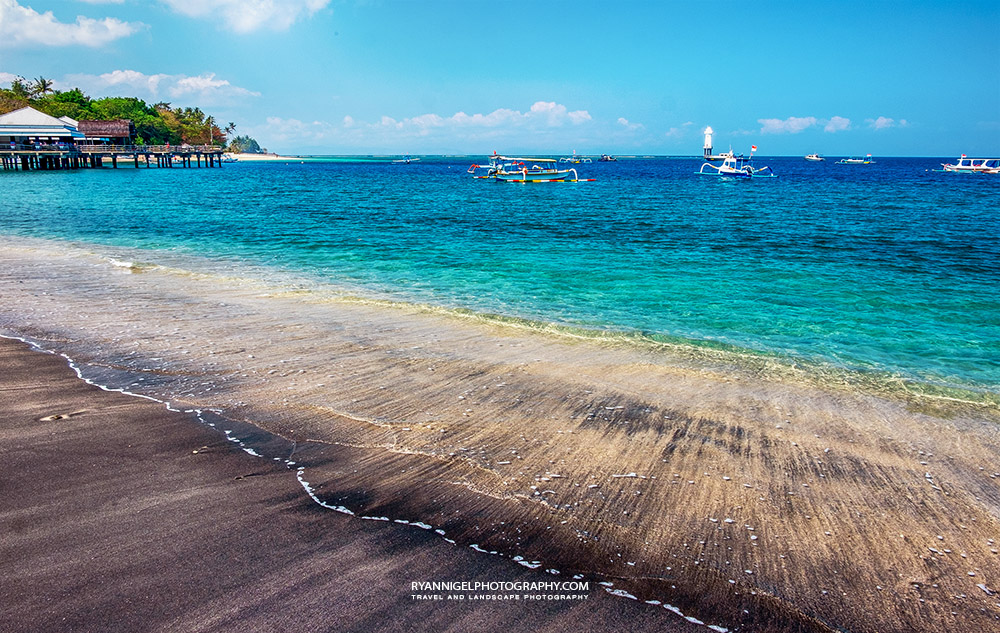 Senggigi
In town there is Senggigi Beach. It's the main beach of town. At this beach there is also a small port. Here you can book tickets to the Gili Islands and to Bali. There are various offers so check before booking. Offers vary from overcrowded and very uncomfortable speedboats to private trigger boats.
The road to the north offers a great, a very great viewpoint. you can overlook Senggigi Beach. During sunset very busy ! Lots of street sellers with grilled corn, sate, drinks and snacks. If you walk 10 min more, you come to the next viewpoint overlooking Karandangan Beach. This point is very nice because, with clear skies, you can see Mount Gunung Agung in Bali.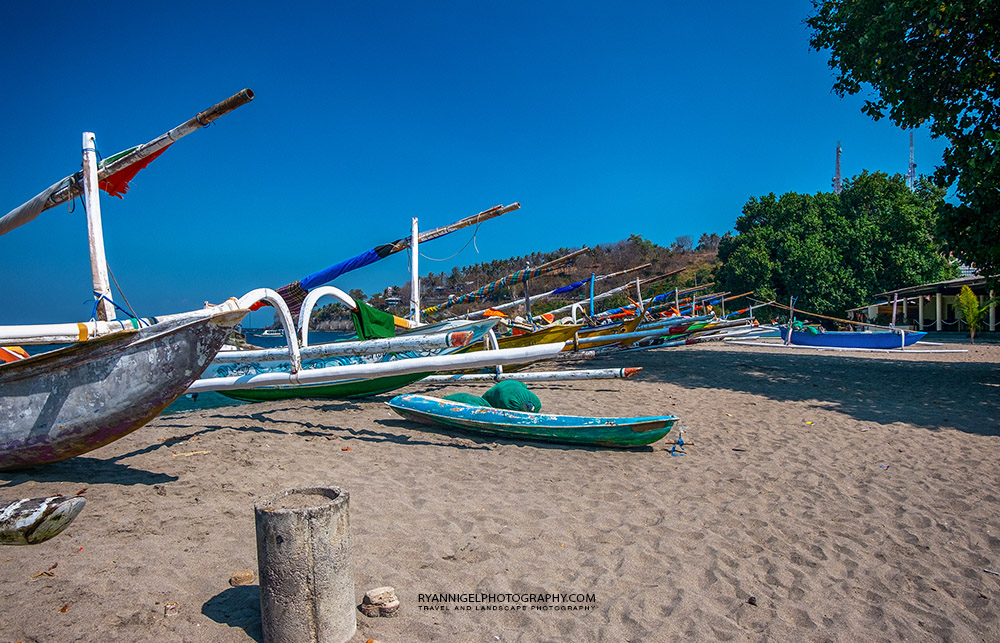 Next to Sengiggi Beach there is another bay and it's totally deserted. The bay is behind Kila Resort on the tip of Senggigi. Very nice viewpoint as well and great for morning/afternoon walks.
When you move further south of Senggigi you come to Batu Bolong. This is a temple and you can visit this place. Entrance fee is 'flexible' so check in the entrance book what others have paid 🙂 Besides a temple there is also a beach and a very nice viewpoint where you can get snacks and drinks. try the fresh coconuts (About 15,000 rp a piece) ! A couple of km's further you got Batu Layar with the viewpoint Batu Layar Makan. Alo here: great views and tons of snacks and drinks available. Very crowded during sunset !
North of Senggigi
There is Karandangan Beach and Mangsit Beach. Karandangan Beach is a black sand beach (very hot sand) and you can do some nice snorkeling as well. Check the tides and waves before because it can get choppy.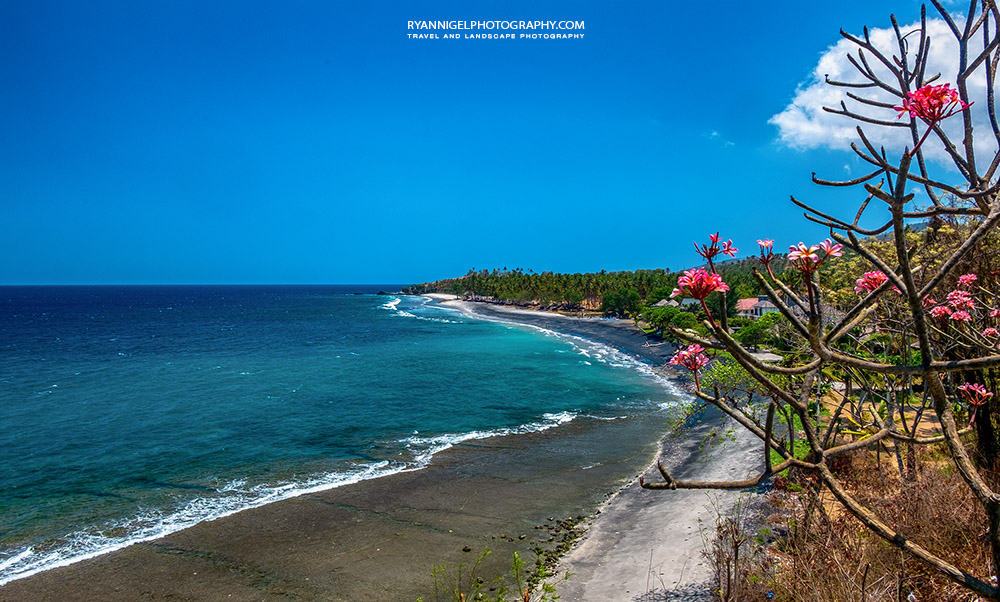 A bit further north, about 10 min., there is Mangsit Beach. A wonderful beach also black sand. Some premium 5 star resorts can be found there. The water is just amazing and is very good for snorkeling and surfing. Many surf schools and board rental available. Snorkeling is a must, plenty of hawkbill and green turtles ! Corals not so great but still nice.
And the beaches are getting better and better when you move a bit more north. You got Klui Beach, Lendang Luar, and some more. The road is very nice to drive, very curvy and offers great viewpoints over the deserted beaches.
On my YouTube Channel you will find some videos of the sea turtles i have seen. Also some underwater videos from the corals.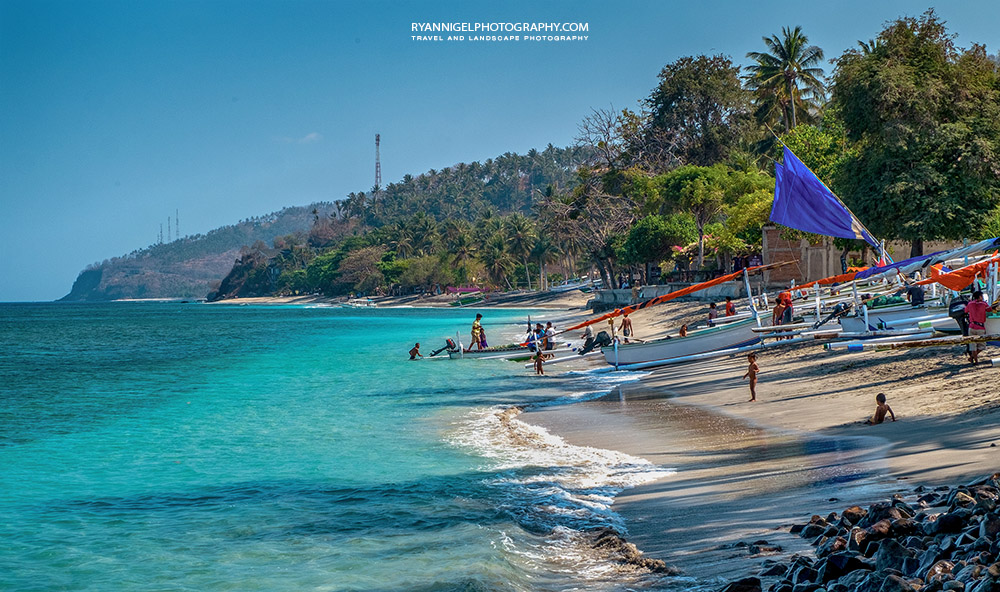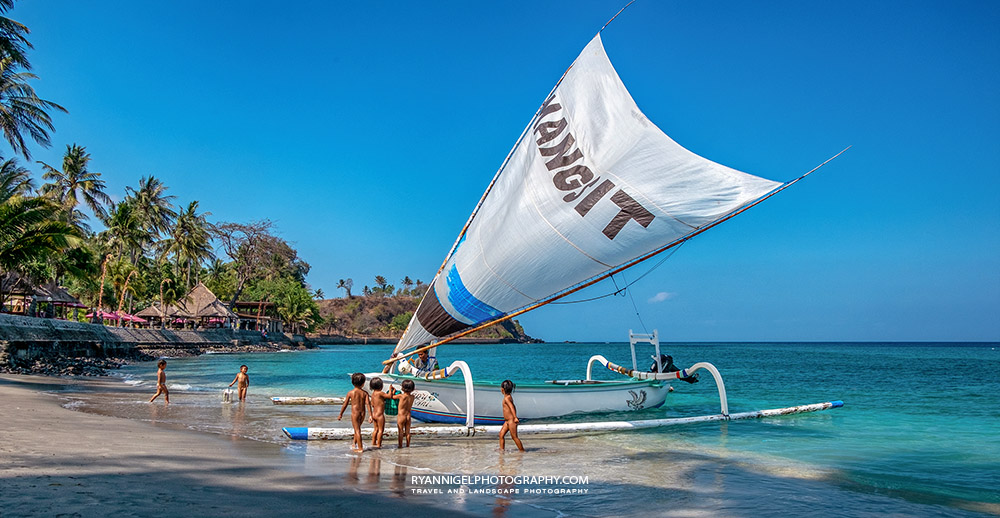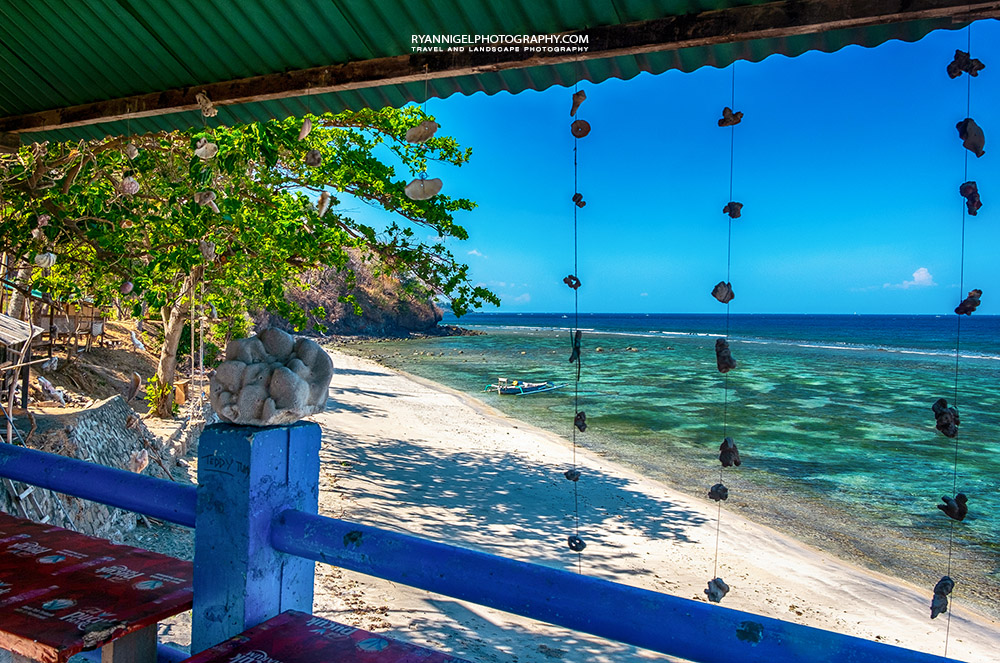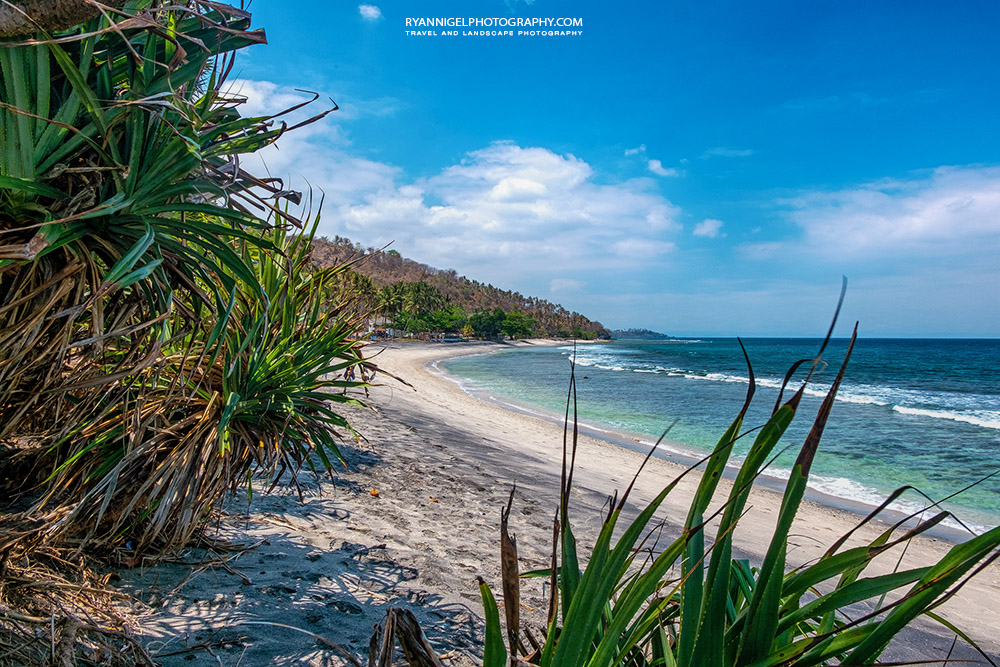 South of Senggigi
Well the beaches south of Senggigi getting worse. Why ? Well you come to the industrial area and port near Ampanan. Still great places to see sunset, but quite a lot of polution. So what's south of Senggigi ? There is Ampanan and Montong. Montong is a small area but offer great warungs (small street restaurants). You can get great food there for local prices. Ampanan is the home of the largest fresh market of Lombok, Pasar KeboenRoek. This huge market offers anything from fresh chicken to flip flops. Or visit the fish market and see the catch of the day. Some pretty impressive stuff there ! Have a look !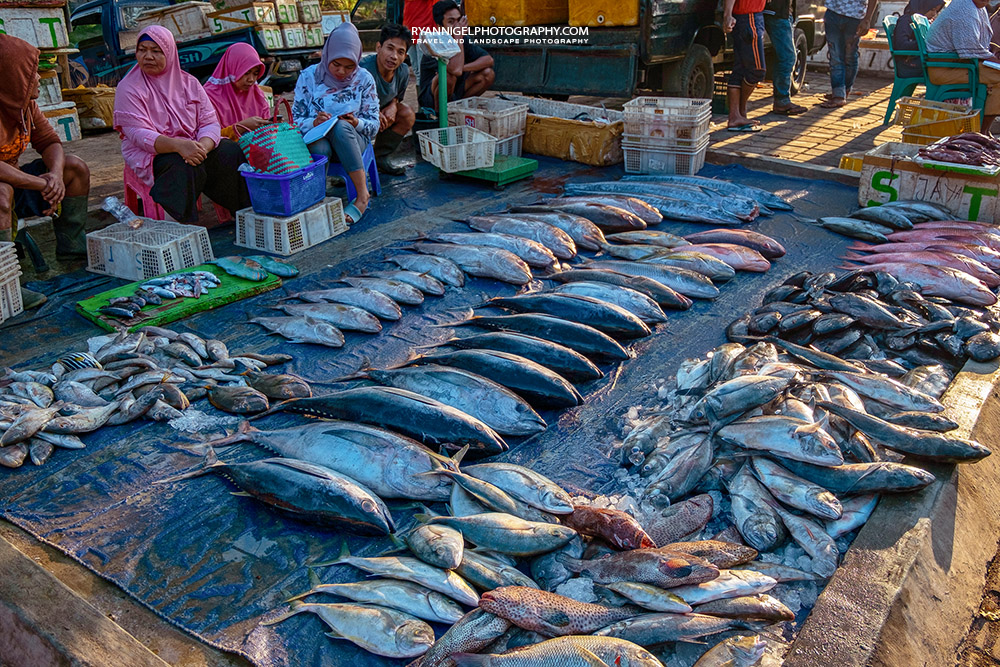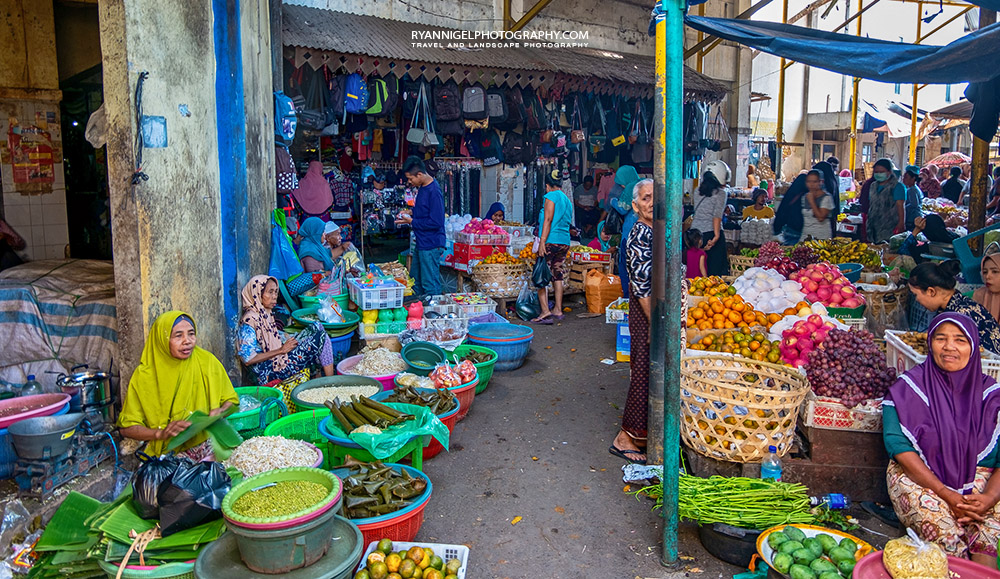 Bukit Idung and Bukit Tigarasa
Bukit Idung is south of the capital Mataram about 1 hour drive from Senggigi. The viewpoint offers a 360 degree view over the area. Bukit Idung is very easy to reach.
Bukit Tigarasa is north of the capital Mataram, also about 1 hour drive from Senggigi. Very nice view. You have treehouses, you can drink local coffee and when heading back you can drive to all the small villages. One is very interesting: all the berugas (Sala's or Gazebo) are made there.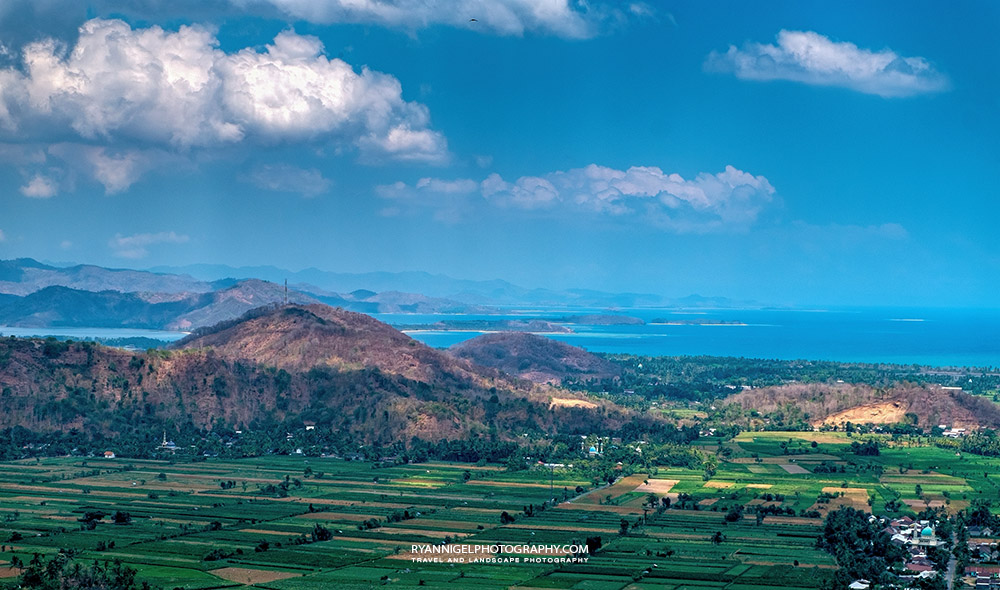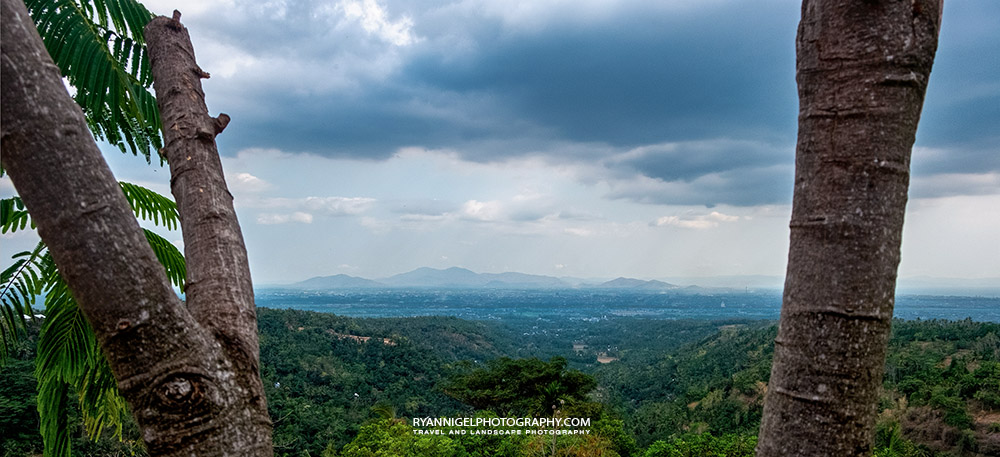 South West and South Lombok
Lembar and the South West Gili Islands. Gili Nanggu, Gili Kede, Gili Ringgit, Gili Layar
Lembar is just 1,5 hours from Senggigi and the town itself is not much. However ! South of Lembar is the starting point to visit the fairly unknown Southern Gili Islands. These islands are: Gili Nanggu Gili Kedis, Gili Layar, Gili Ringgit, Gili Kede, Gili Godeng and Gili Asahan. If you are into world class snorkeling, these islands are the places to visit.
The Southern Gili's are unknown to the mass, so it's very quiet. You are just alone or with 1 or 2 other boats at a snorkelpoint. And these boats are small, carrying about 4 to 6 people. You will find no speedboats with 50+ (chinese) people there like in Thailand. The waters are crystal clear, green, blue, turqouise in color. Beaches vary from sandy to coral beaches so bring watershoes. The private tour agency, Lombok Private Tours, can organize you a private trip to 3 or 4 of the Southern Gili's and you will not be disappointed. Believe me, i've done this trip a couple of times and everytime it was excellent.
Below some photos. They speak a 1000 words 🙂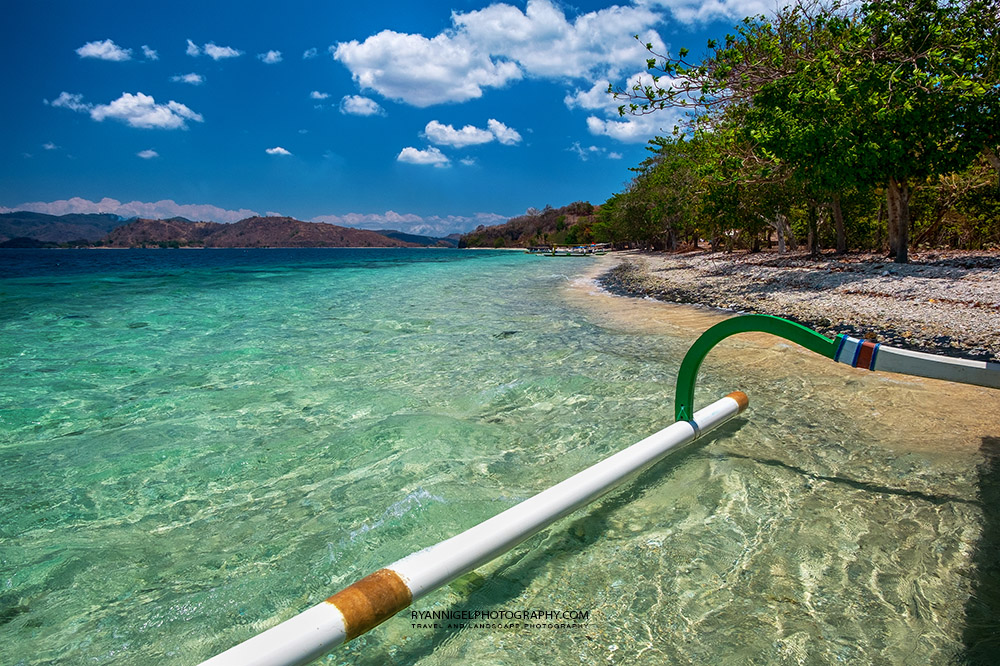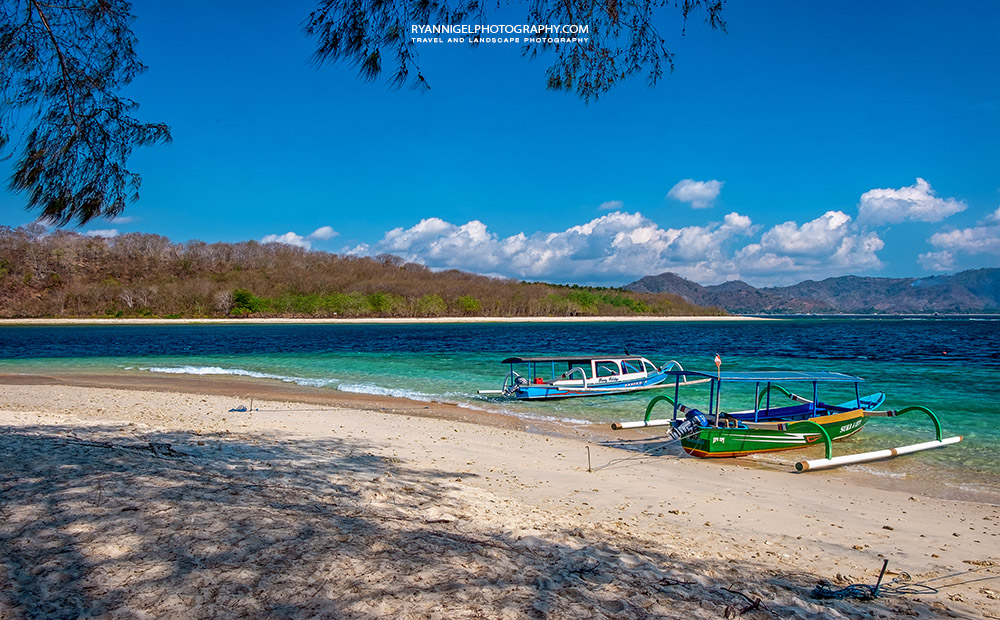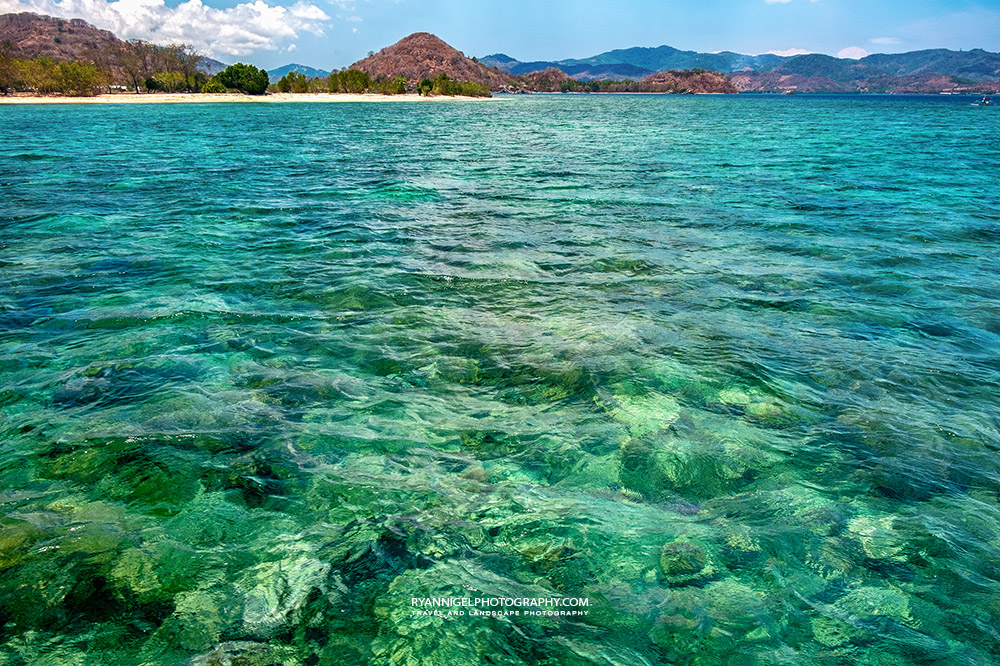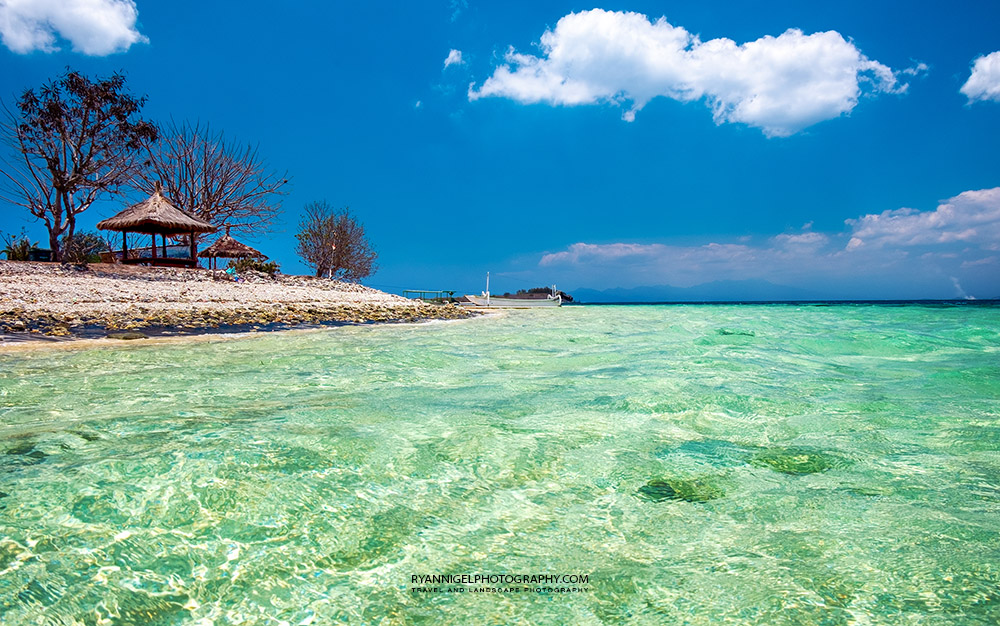 South Lombok – Koeta Area
Surfer Boyz and Girlz, pay attention because this is YOUR area. 🙂 The South of Lombok is known for its excellent waves and wind making surfing one of the hottest watersports. In the south there are plenty of beaches. 32+ km of bays and beaches with plenty of surf spots and opportunities. The most famous ones are: Selong Belanak Beach (if you want to learn surfing), Lancing Beach, Tampah Beach, Mandalika Beach, Seger Beach and one of the most popular ones: Gerupuk Beach. There you can find Don Don Surf Spot.
But the best surf spot is not there. It's in the South West and called Banko Banko. It's a hell to get there, but according to some pro surfers it is THE best surf spot of Lombok.
Besides surfing you can also enjoy the landscape scenery and the beaches. Aan Beach is one of my favourites because Bukit Merese (Merese Hill, viewpoint) is next to it. Stunning views and stunning color.
Below some photos, they speak more than words.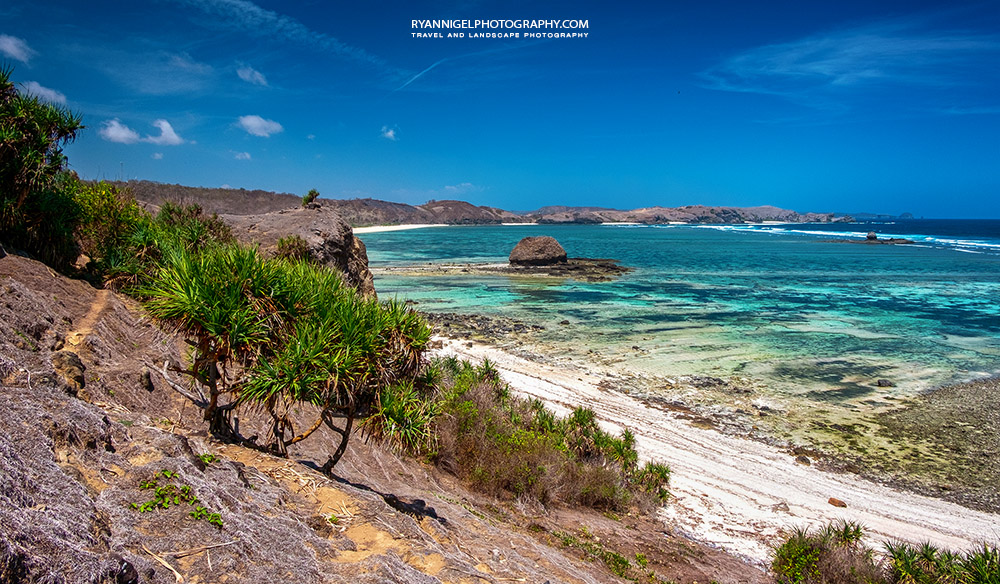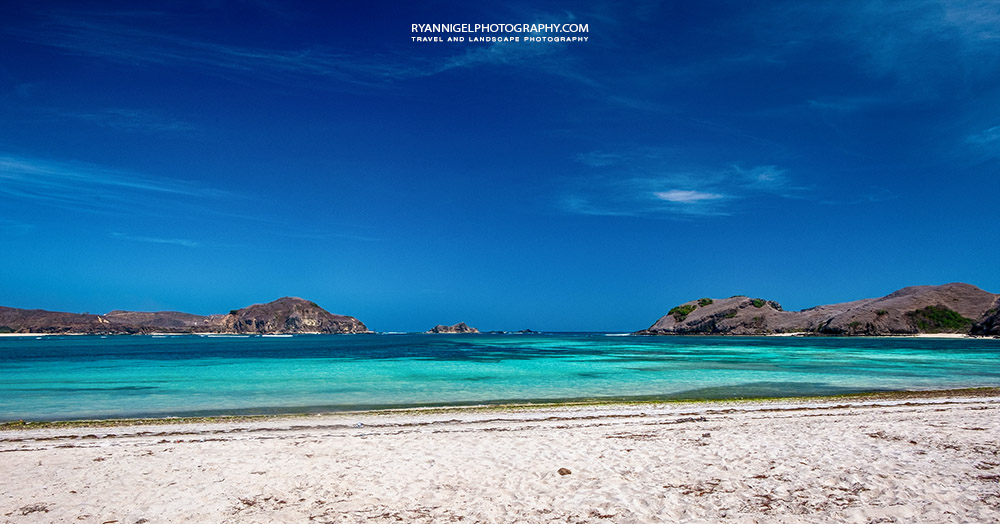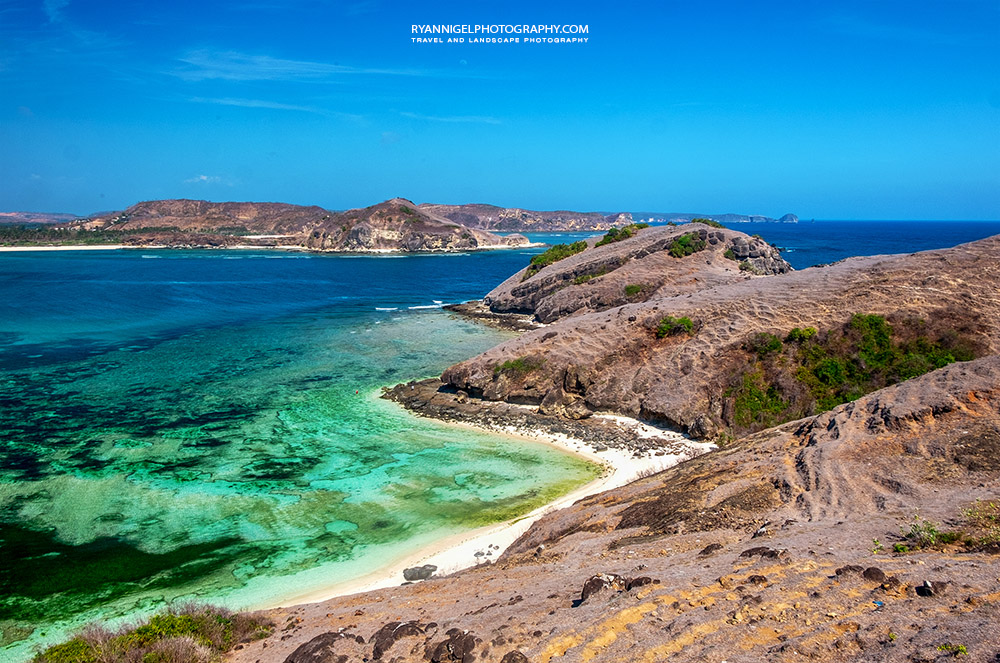 The white sandy beaches in the South of Lombok are separated by volcanic rock formations. These rock formations are overgrown with grass and some trees and became excellent viewpoints. Some of them hard to find and you have to take a maze of dirt and rock tracks to get close to them. But once you there and you have climbed those rocks and hills, you will be rewarded with some very stunning views !
Koeta or Kuta Lombok
Don't mistake this place with Kuta Bali ! Koeta Lombok is the main tourist destination in Lombok. Tons of souvenir shops, bars, restaurants, homestays, surf shops, etc. create most of the beach and street scenery. As you drive around in the area you can see that the government invest a lot of money to develop it into a prime tourist destination. Many plots of land are sold to project developers and soon big hotels are coming.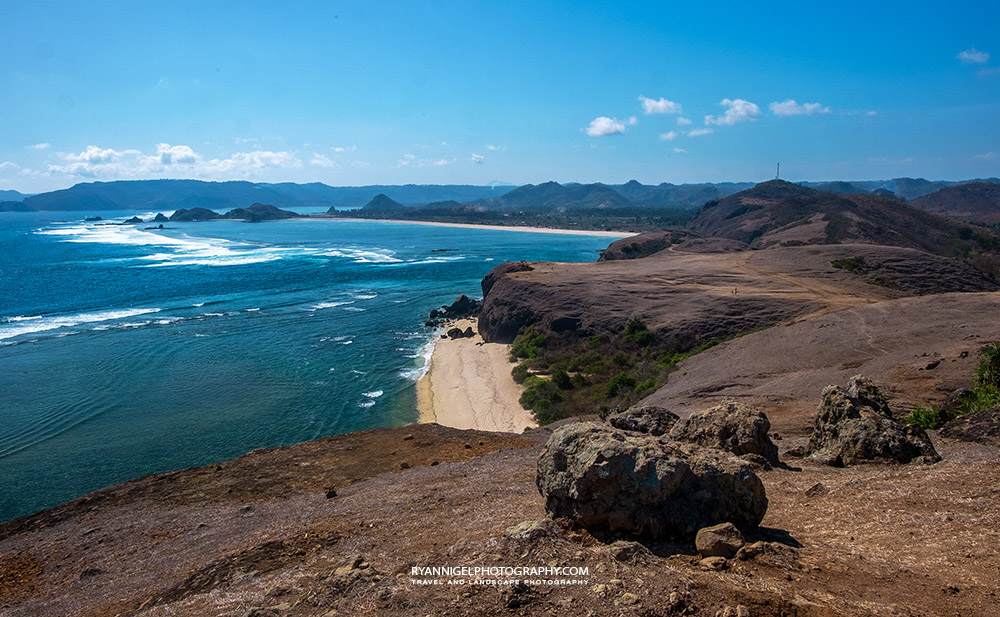 Outside Koeta area it's still nice. Plenty of small beaches available like Mawun Beach and Areguling Beach. No big development there. Driving the otherside towards Gerupuk Beach you come to Mandalika and Seger Beaches. Fantastic places, not crowdy and amazing scenery. you can go up a hill (Bukit Merese) next to Mandelika and have some great views. And this continues all the way to Gerupuk Beach. No time to get bored !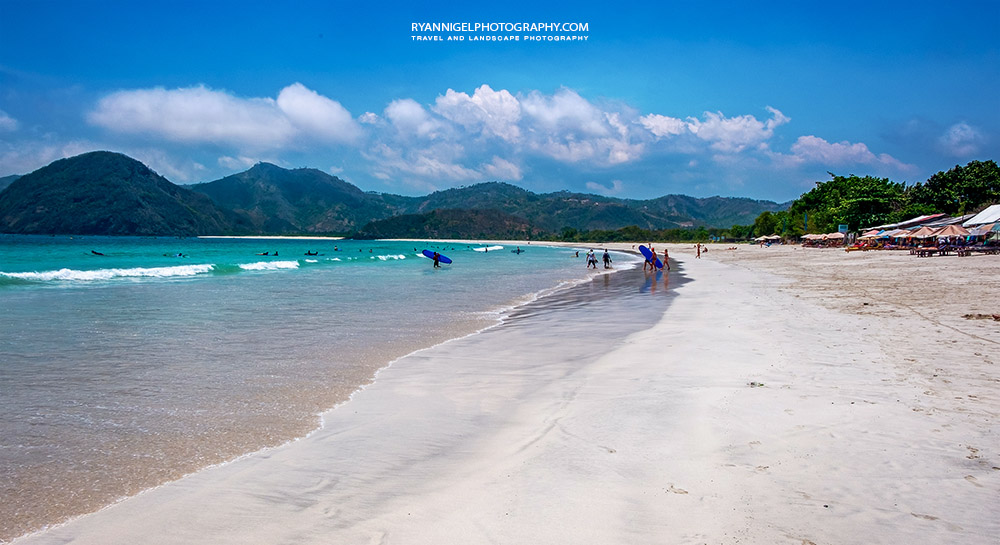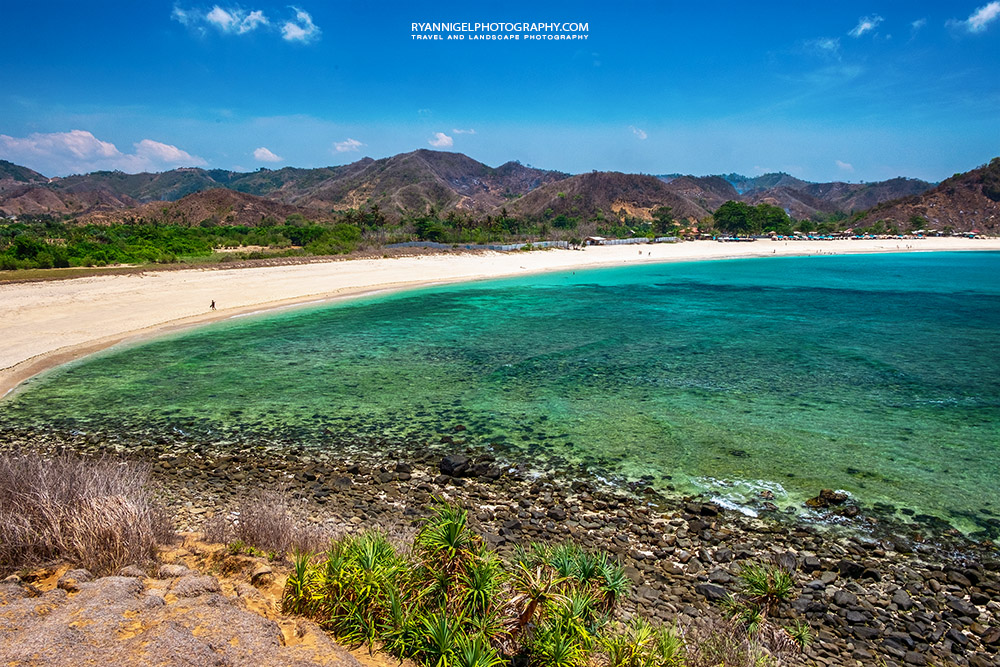 North West and North Lombok
Island goers attention ! The north west is THE point to take boats to the Gili Islands. Gil Air, Gili Meno and Gili Trawangan. There are a few beaches from where you can leave. Starting from Mentigi Beach you can take various boat services to these touristic islands. One beach further is Bangsai the main port to go to the islands. Also from there various services (at various prices) available.
Nipa Beach and more
But why go to the Gili Islands when Lombok have so many nice beaches to offer ? And ALL of them nearly deserted ? Start at Nipa Beach. This beach is very popular with locals. There are tons of warungs selling Ikan Bakar (grilled fish). Despite the popularity among locals, the beach is never overcrowded. The sandy beach, waving palm trees and clear blue waters set the ideal tropical setting 🙂 Snorkeling can be done straight from the beach and you will encounter many greenback turtles.
On my YouTube Channel you will find some videos of the sea turtles i have seen. Also some underwater videos from the corals.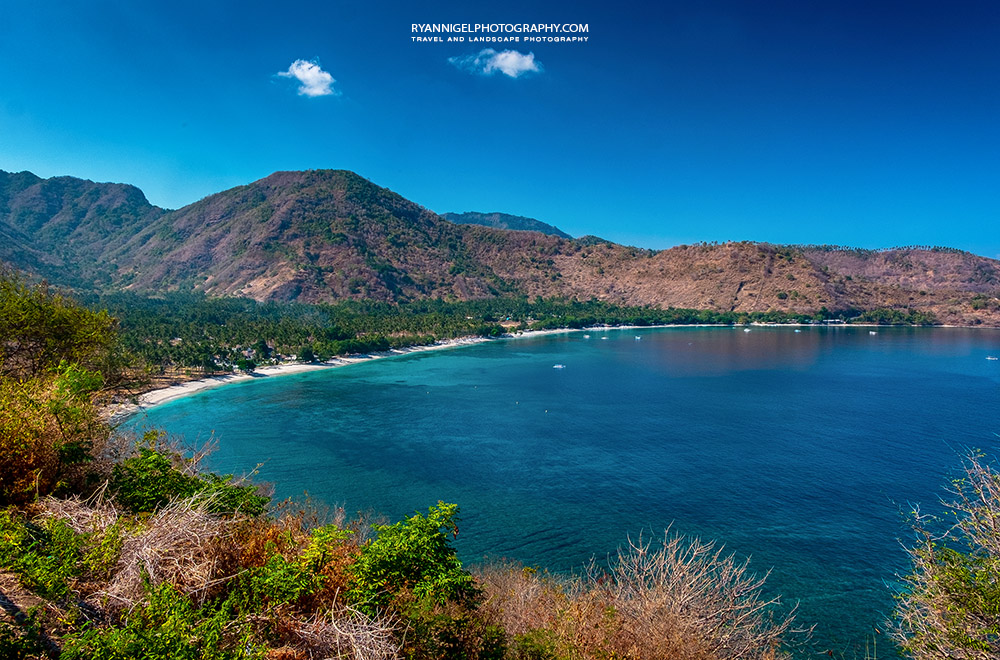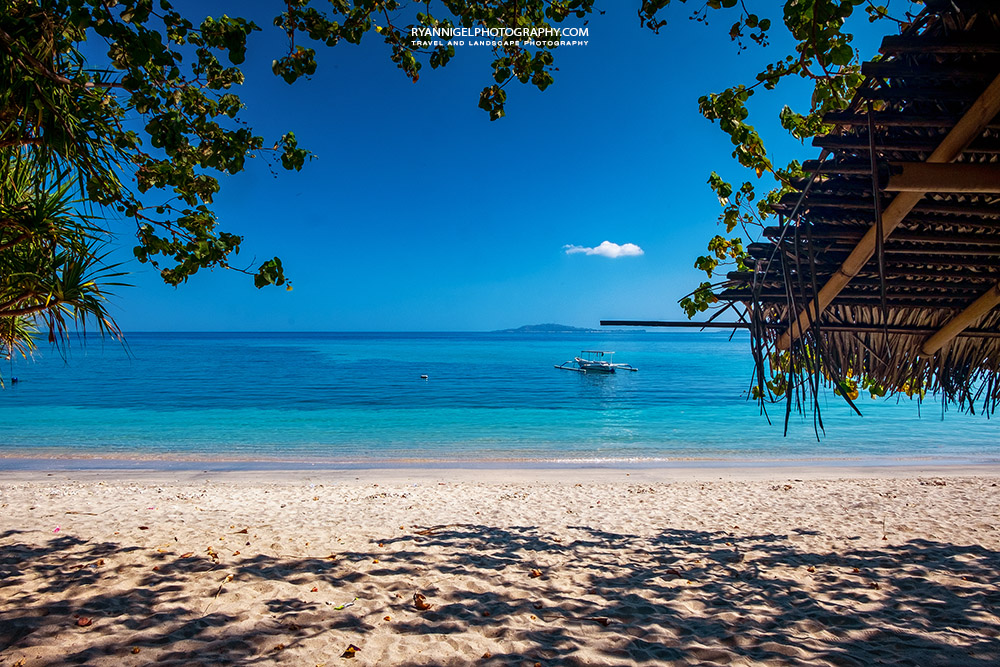 From there moving from north west to the north there are some more quiet beaches like Sire Beach. The landscape starts to change and you can see the mountains and ricefields. Once you pass the city of Tandjung you really start to notice that you are in the North.
The North is Rinjani territory. Meaning mountains, waterfalls, lush green rainforest, ricefields and more. Very scenic to drive around. Stop at one of the many villages on the road, have a local coffee (Kopi Sasak) and enjoy the scenery, local life, etc.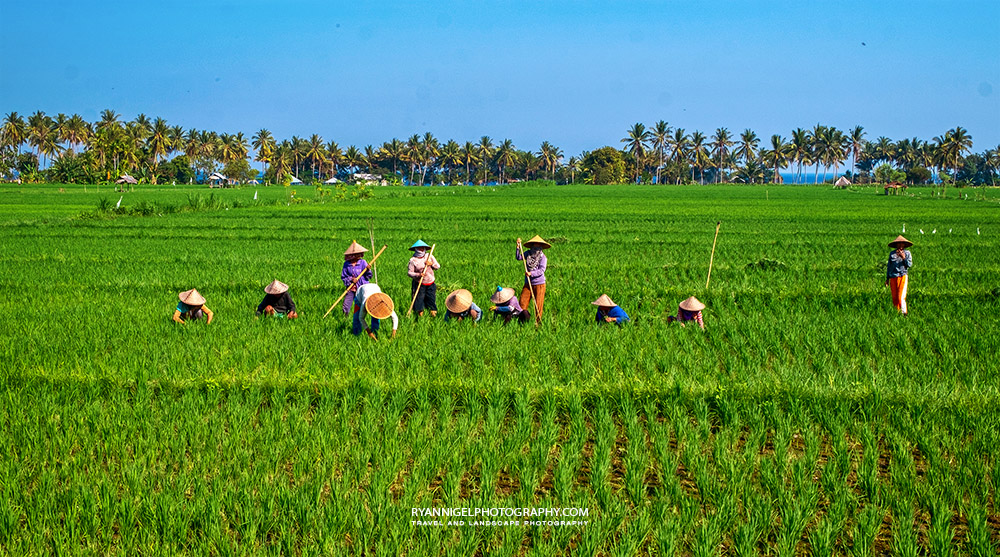 Waterfalls
Getting to the waterfalls can be a pain. Can be ? It is a pain. The north of Lombok hosts so many waterfalls that even the locals don't know how many there are. After the earthquake many of the roads and access roads to the waterfalls are broken, damaged or just gone. Getting up-to-date-information if you can go to one of the waterfalls of your choice is very hard. Nobody knows for sure if that particular waterfall is open or not.
But what a waterfalls ! The ones you can access are really spectacular. I have visited Air Terjun Tiu Sendang Gile and Air Terjun Tiu Kelep. They are both in Senaru, about 2,5-3 hours from Senggigi. Easy access, but you can see the damage from the earthquake. More accessable waterfalls are Tiu Gangga, Tiu Pituq and Tiu Pupus. They are all open. However, in dry season nearly no water, so check when you want to go.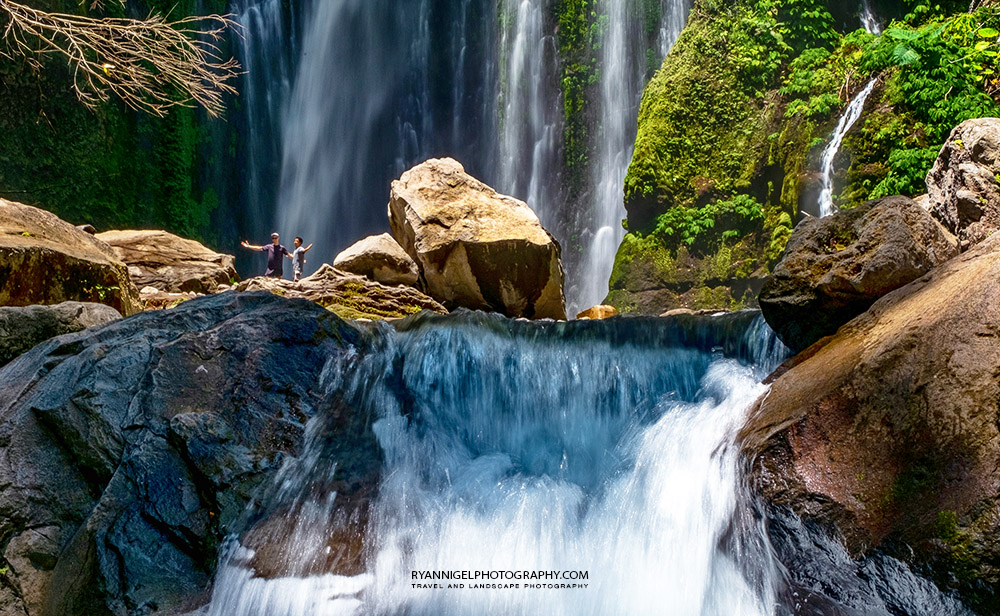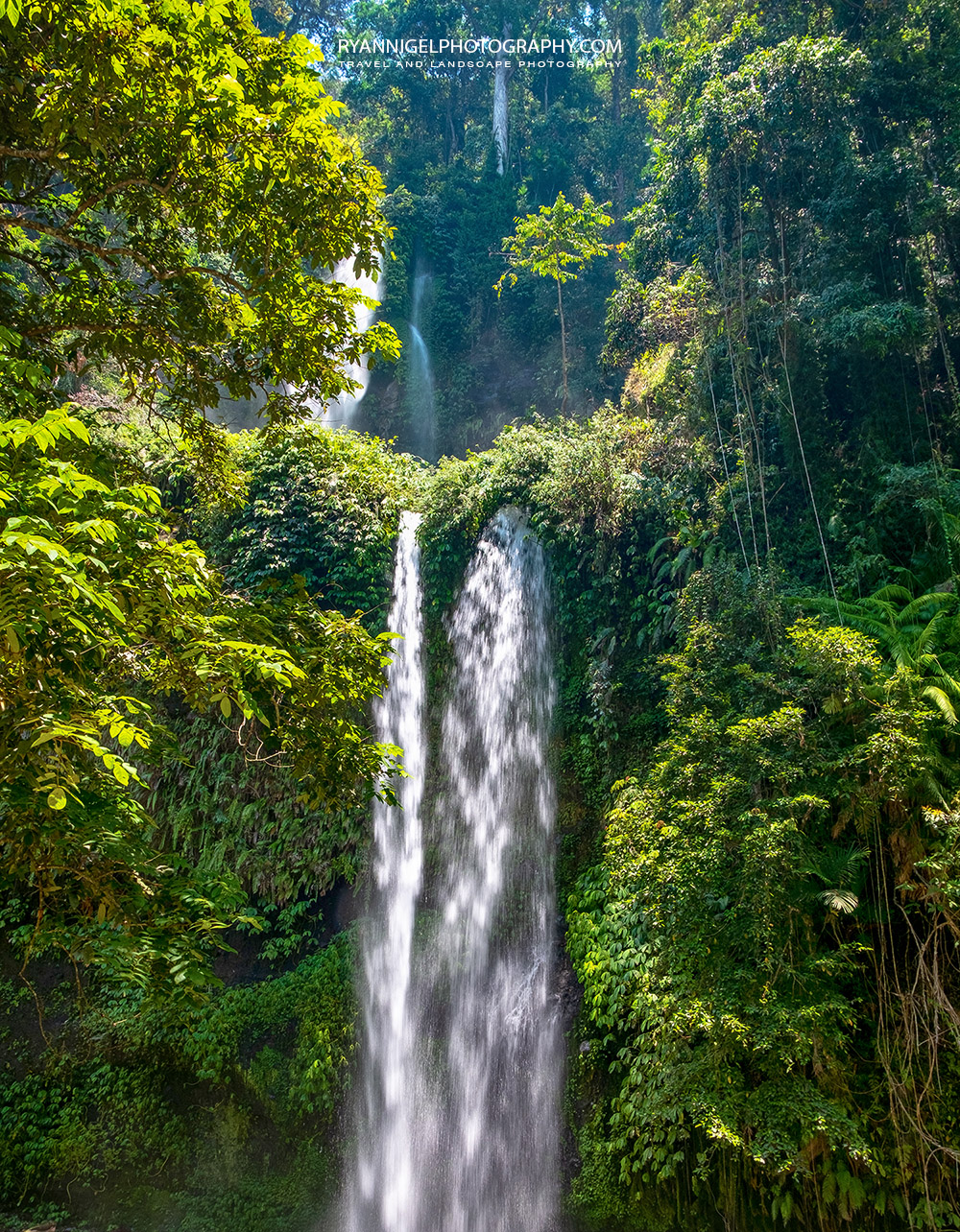 There are other very hard to find waterfalls like Mangku Sakti and Mangku Kokoq in the north east, Tiu Frendo and Tiu Sekeper in the North. The last one, Tiu Sekeper, is the largest waterfall from Lombok and listed in the top 10 waterfalls in Indonesia. Tiu Sekeper is know as the mysterious waterfall. You can only go with a local guide. The waterfall is extremely hard to find. I went out to find it, and yes, i did found it but couldn't come close. We couldn't find a track down from the mountain that leads to the waterfall. But i will try again next time !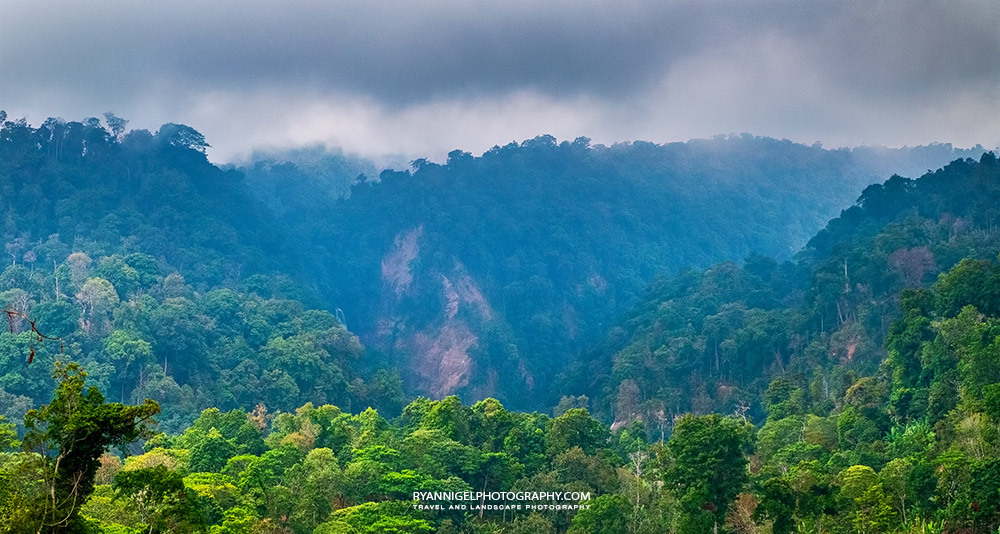 Mount Gunung Rinjani
Besides the Gili's there is another reason why people come to Lombok Indonesia and that reason is the mighty 3627m high active volcano Mount Rinjani. It is truly impressive. You can see the mountain/volcano from many parts of Lombok Island but once you come closer on the slopes of Rinjani you can see how impressive it is.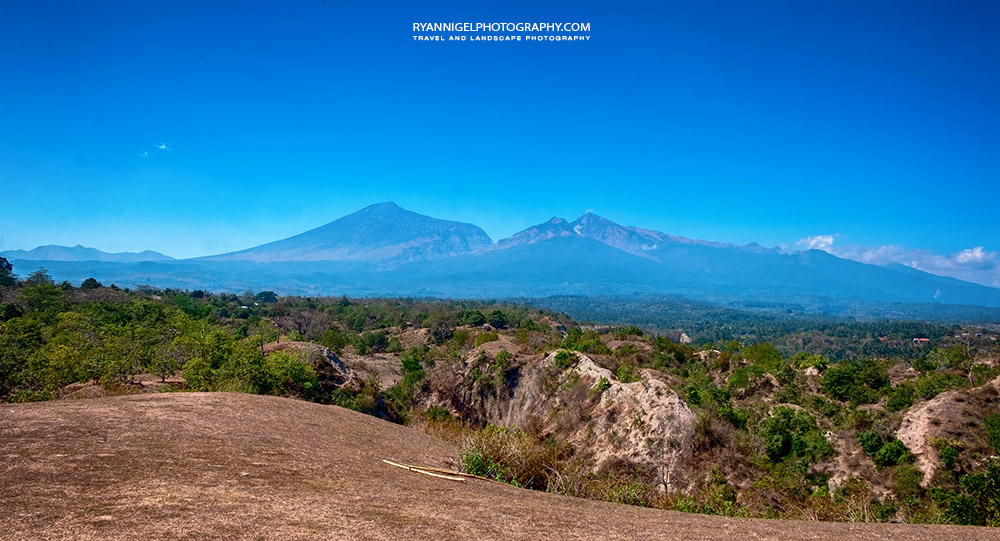 Once you are on the slopes of Rinjani in the area of Sembalun you can see some fantastic and spectacular landscape views. The roads here have very steep climbs and very very steep decents so take a good motorbike.
Treks
The slopes of Mount Rinjani offer lush rainforest, waterfalls, rivers, hiking trails and camp grounds. The village of Senaru is the heart and startpoint for nearly all Rinjani treks. You can get accommodation there, book 1 to 5 days treks and visit some waterfalls. You can go trekking all the way up to the crater. There is also a lake with plenty of fish. During the treks you will see many stunning landscape views. The higher you come, the better the views.
But…. Check before you book a trek. As said before, many of the trails and areas are gone or damaged after the earthquake. The area is not accessible for heavy material so recovery is slow. Even more than 1 year after the earthquake many of the trails and areas are not yet reopened. Also you can only go trekking with a National Park Ranger AND a local guide. Alone or ONLY with a local guide is not possible, however it is being offered to do this. So be careful and check the rules and regulations before trekking.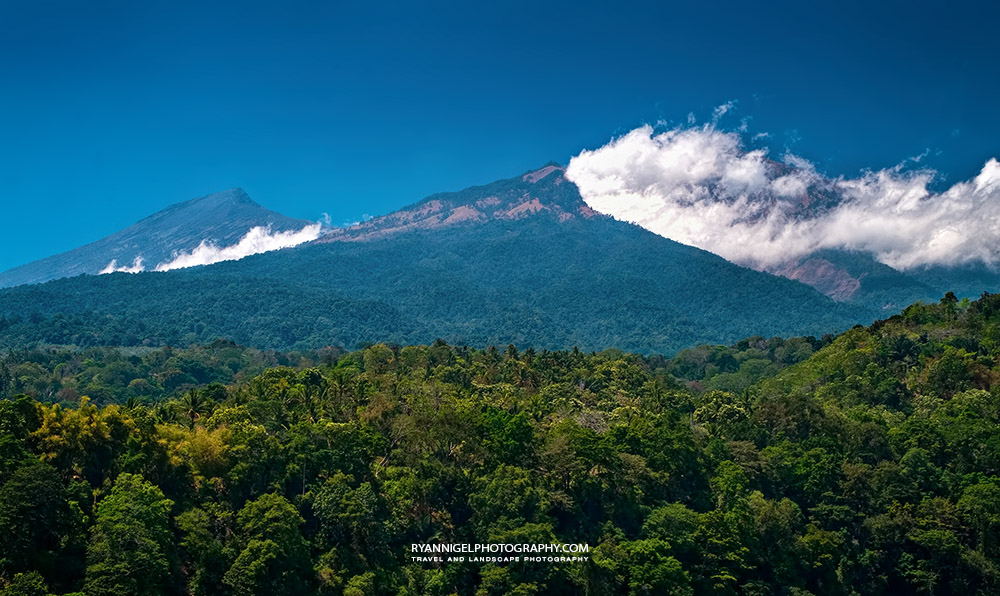 East Lombok
East Lombok is pretty much undeveloped for tourism. Besides the islands off the coast and Big Tree Sambelia there are no other points of interest.
Big Tree Sambelia is worth a visit. These giant trees are quite spectacular to see. There are 2 grounds where you can see the trees. One is open for the public and the other one is closed. The beach across the road gives a nice view on Sumbawa, the neighbour island. You can see the ferries going up and down from Labuhan Lombok to Sumbawa. The ferry takes about 2 hours.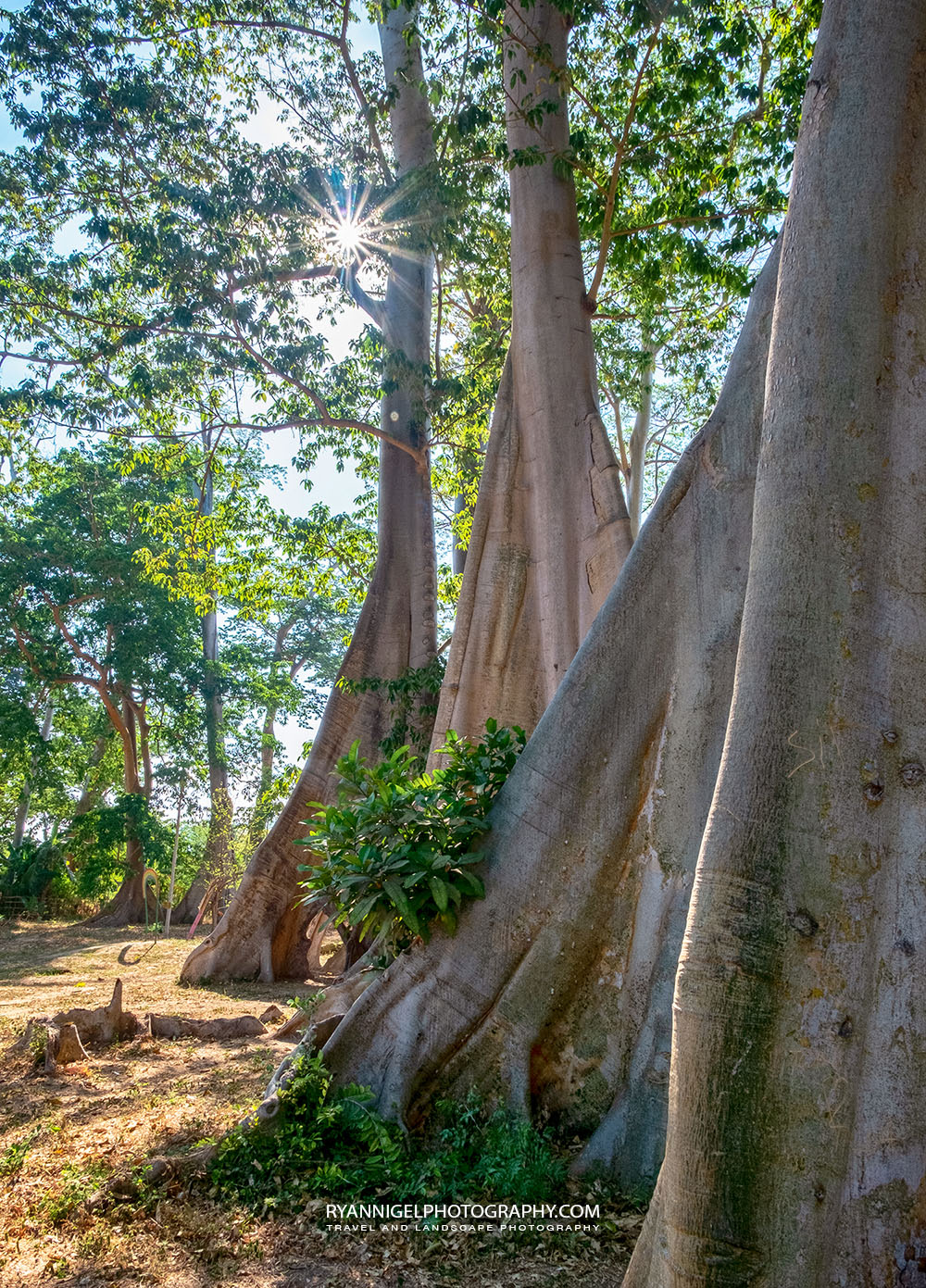 The other islands, Gili Sulat, Gili Lawang and Gili Kondo are interesting. These islands are all uninhabited. There are no hotels or bungalows. Gili Lawang and the other islands are surrounded by crystal clear waters, colorful coral reefs and a huge mangrove forest. Gili Sulat have more beach and a smaller mangrove forest. These islands are perfect for adventurous snorkelers. Getting there is difficult. From Senggigi you have to travel to Sungian, Pantai Kokok and/or Pantai Sandongan (4 to 5 hours by car or motorbike). There you can find some small bungalows and spend the night. The bungalow owners are very friendly and can help you arrange all the stuff you need to do an overnight trip and arrange a boat for you. Prepare to pay because its not gonna be cheap.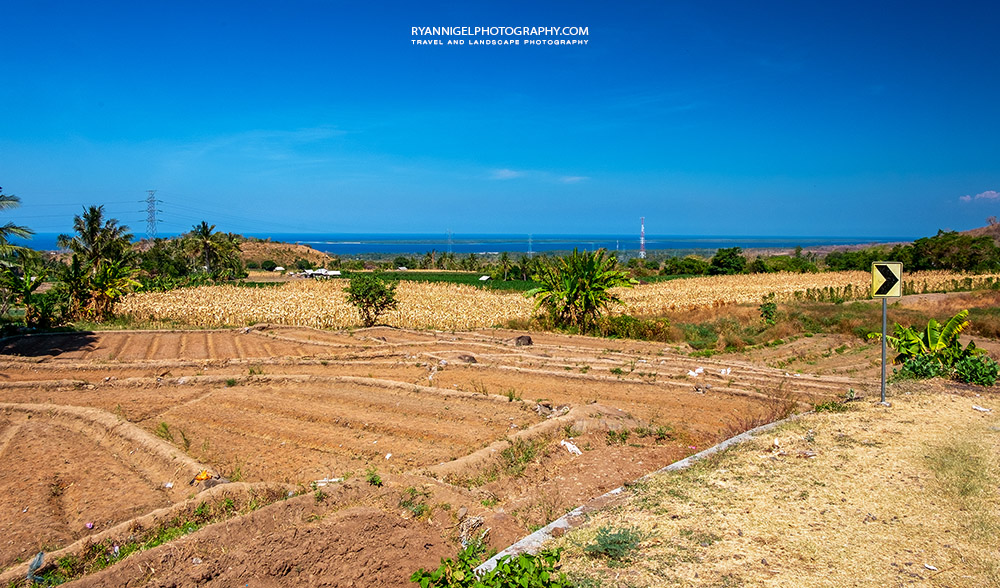 What more ?
Well i'm thinking about writing a 3rd part. I have so many good material to work with and so many good photos. The thing is that i have to leave something for your imagination. I can write about the villages (Kampongs), about how Lombok is organised, about how poor certain areas are, about how the rebuilding process is going and many more things.
Go look for yourself. Visit this nice island in Indonesia. Get yourself that ticket and just explore. Discover. Talk with the local people. See, listen and learn: and open your mind. Good luck on your travel in Lombok Indonesia. 🙂
More Photos
Click on the photo to view larger size.