Doi Maesalong
Huay Doi Maesalong is located about 70 km north west of Chiang Rai. It is the heart of the tea Thai Tea industry. Doi Mae Salong is a so called OTOP town. OTOP stands for One Tambon One Product and is a certification of original traditional Thai (handmade) products.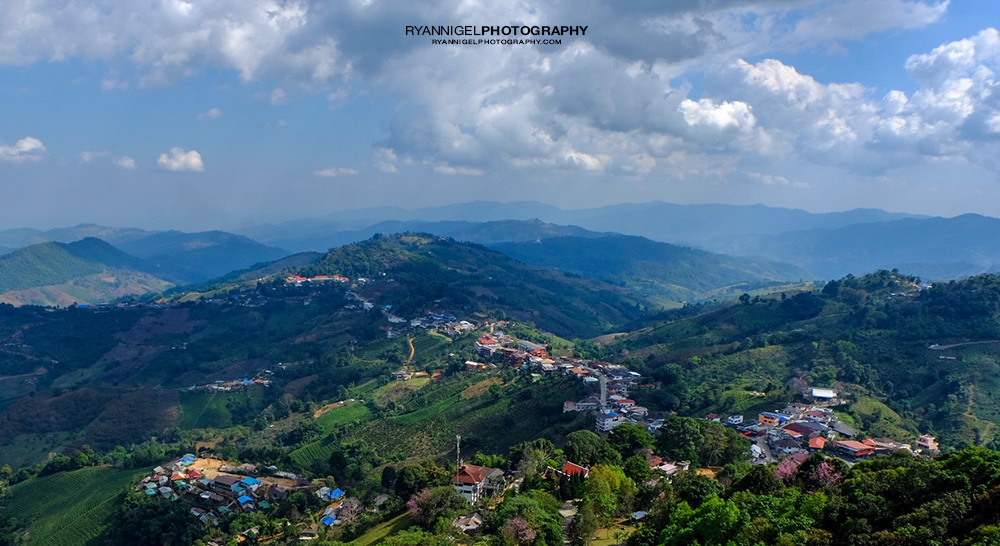 In the links below you can find info about the history of the town and the area. In short:
"The soldiers that settled in Mae Salong kept it as a military base in preparation for an eventual counter-attack against communist China. They funded their arms purchases with opium production and rubbed shoulders with notorious Burmese warlord and drug baron Khun Sa, who lived a few kilometres away in Ban Hin Taek and who initially trained with the Kuomintang before founding his own army.
In the 1970s the Thai government struck a deal with the renegades: the battle-hardened soldiers would help them fight Thailand's own communist insurgents in exchange for legitimacy and Thai citizenship. Part of their going straight involved the soldiers' cessation of opium production in favour of the cultivation of mushrooms and above all oolong tea, which is now Mae Salong's main product." (Text: Wikitravel)
Getting there.
Well, I did the ride up there on the motorbike and it is nice, it really is. Same as the ride to Doi Wawee, but on this ride the climbs and decents are more steep and you have much more of those climbs and decents ! But wow, what a ride. The landscape is filled with hills and mountains. Everytime you hit a high point you want to stop to make some photos and enjoy the scenery. One of the best rides I have ever made in Thailand.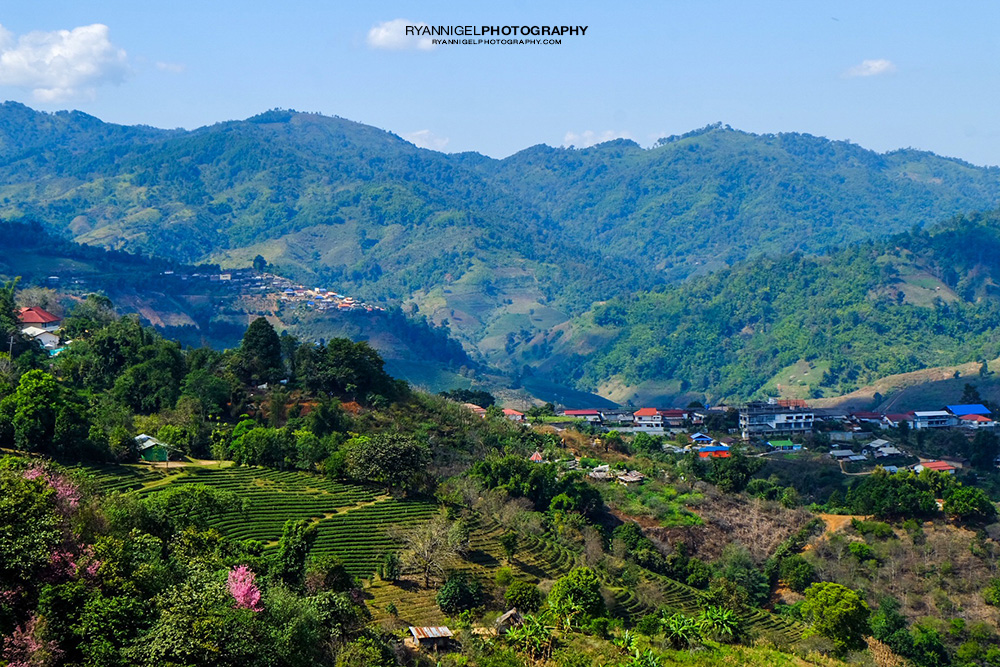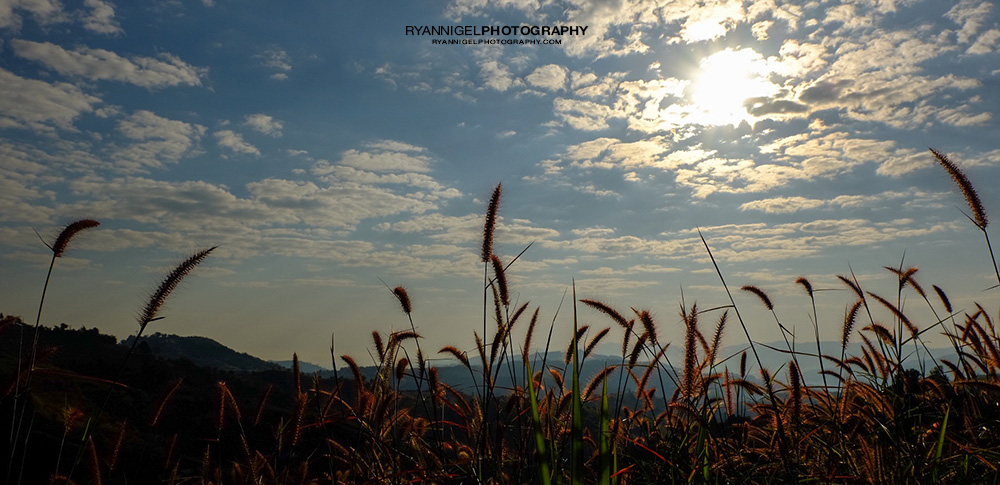 From Chiang Rai, keep going north and follow the signs Doi Maesalong. Keep going for about 70km and your there. Once you come close to the city, you can smell the tea. The flavors of Jasmine and Green tea are in the air. Slow down, smell the air, and enjoy the landscape. If you drive non-stop the ride will take you about 2,5 hours from Chiang Rai. It took me at least 4 hours. 🙂 with stops for food, drinks, photos and to enjoy scenery.
Staying there.
Doi Mae Salong is a tourist town. In the season many Asian tourists come there. Western tourists not too many. There are plenty of hotels, guesthouses and other types of accommodation. Make sure that you check which season you come, otherwise finding some accommodation can be difficult. I went there in February and had no trouble finding a good place to stay. Affordable too. Room rates vary from 300 to 3000 THB and up.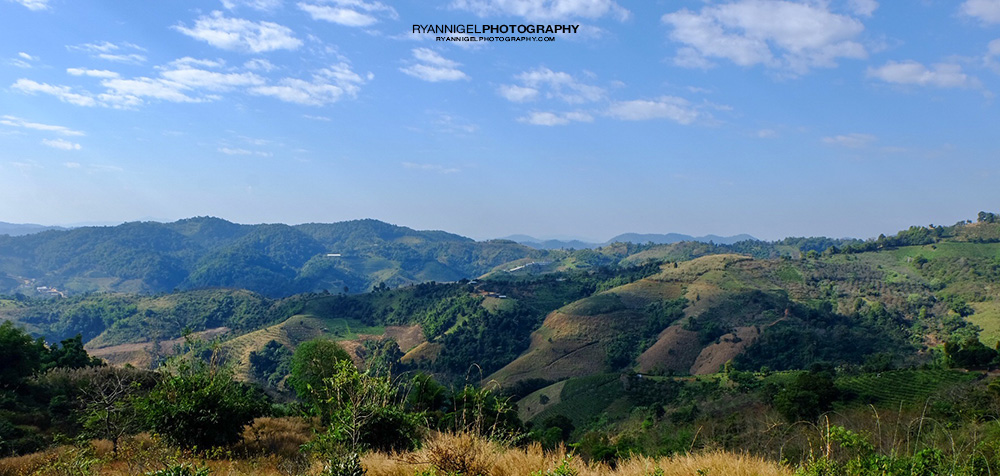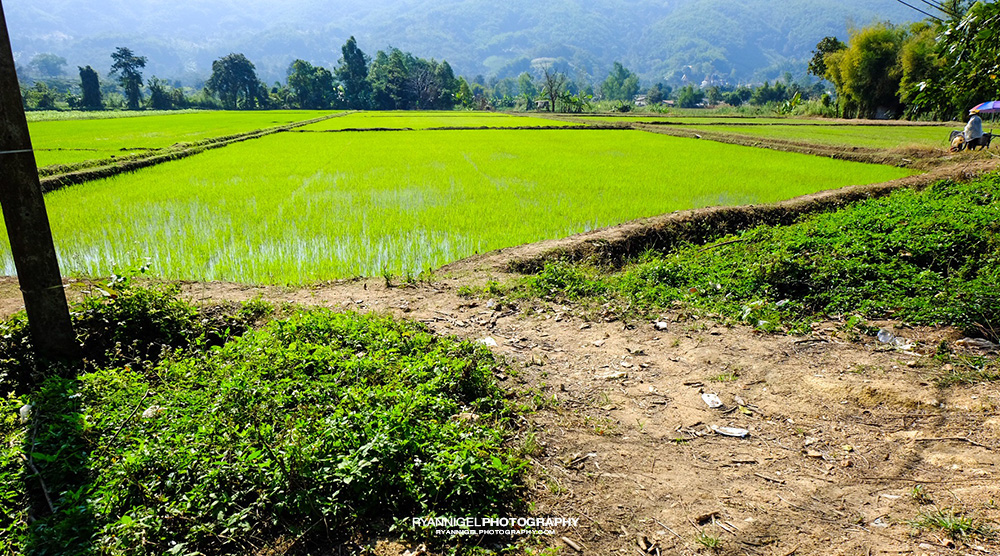 Getting arround.
I recommend you go on the motorbike or car. I prefer motorbikes because you can easily take the small roads through the hillside landscape and discover a few of the many tea plantations. The town doesn't offer any public transportation. There are some songtaews (pick up sized cars) from and to Chiang Rai. Also in town you have quite some climbs and decents so walking can make you (very) tiered. In town there are some motorbike renting places. On the motorbike you can easily drive to one of many tea tasting places. Near the market there are plenty of them but most of them are just interested to sell you tea. If you go a bit out of town and try one of the bigger (Chinese-Thai) tea shops, the tea tasting experience will be much better.
Buying the tea is no problem, you can get as much as you like and many tea shops ship it for you. Getting some explanation about the tea is more difficult. Nearly nobody speaks English and even Thai is a problem. A lot of people speak Chinese and if you drive in town you actually think that you are in China and not in Thailand. Chinese signs, language, restaurants everywhere. Though there are some places where they do speak Thai and some English.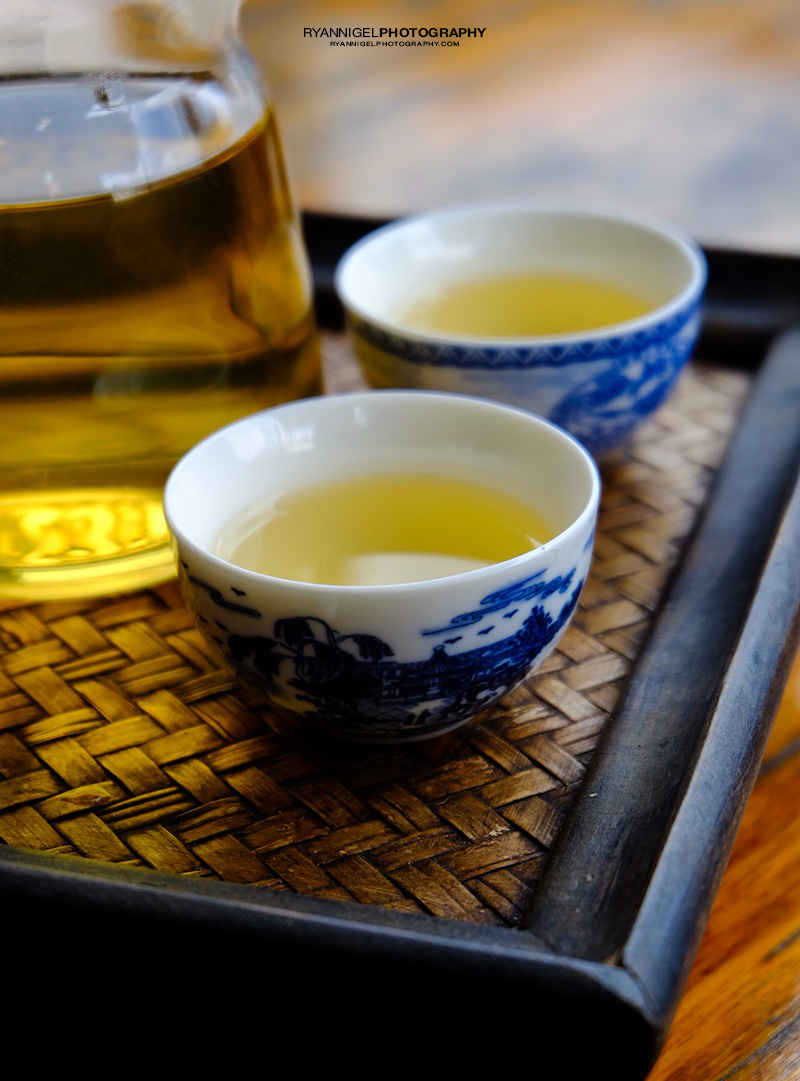 There is a big temple on top of the mountain and from there you have a really good view over Doi Maesalong. The ride up to the temple is quite steep, at one point I thought the the motorbike was not going to make it. Lucky, traffic is as bad as on other parts of Thailand so just drive sloooooow.
Here some links about Doi Maesalong. (Click to open in a new window).
Bangkokpost.com
Wiki Travel
Wikipedia
Besides very good tea you can also get some very good coffee. There are more and more places selling local coffee from Doi Chang.
So did I like Doi Maesalong ? Yes I did. There is so much to see. The Chinese heritage, the classic Chinese style houses, old motorbikes, the tea plantations, the hills and mountains, the details and more. I have shot nearly 2,000 photos on my 3 day trip. Photo gear, I just brought my Fuji X system with a 16-55mm. If i could reconsider, I would bring the 10-24mm as well. So a standard zoom and a wide angle. When I am done writing all my articles, I will post a gallery with 50 of my best photos. Until then, you have to wait 🙂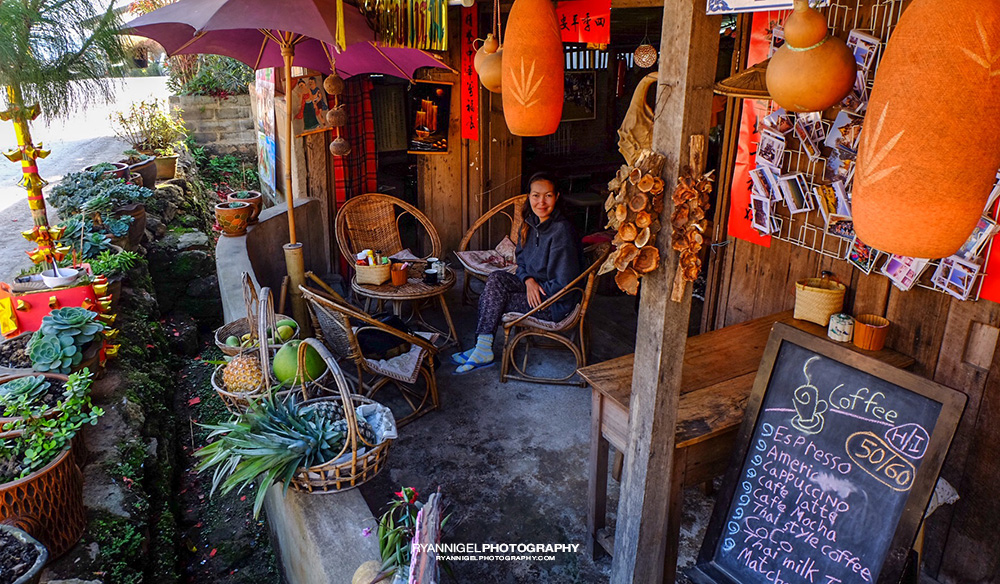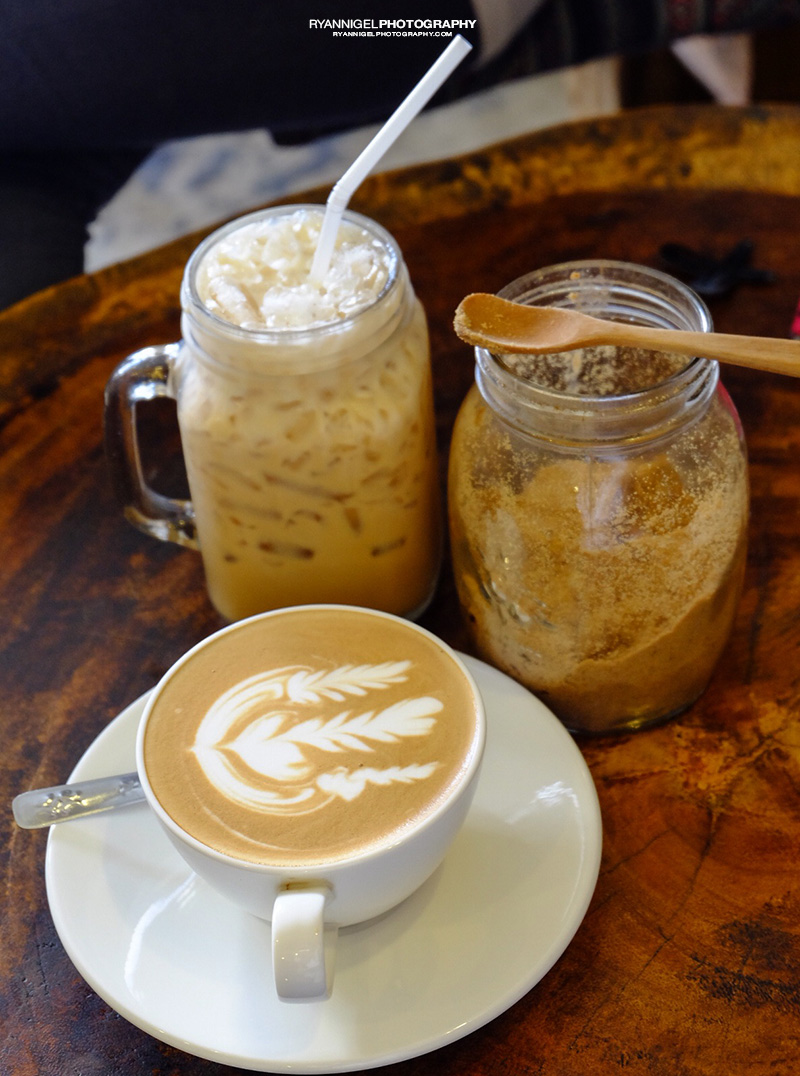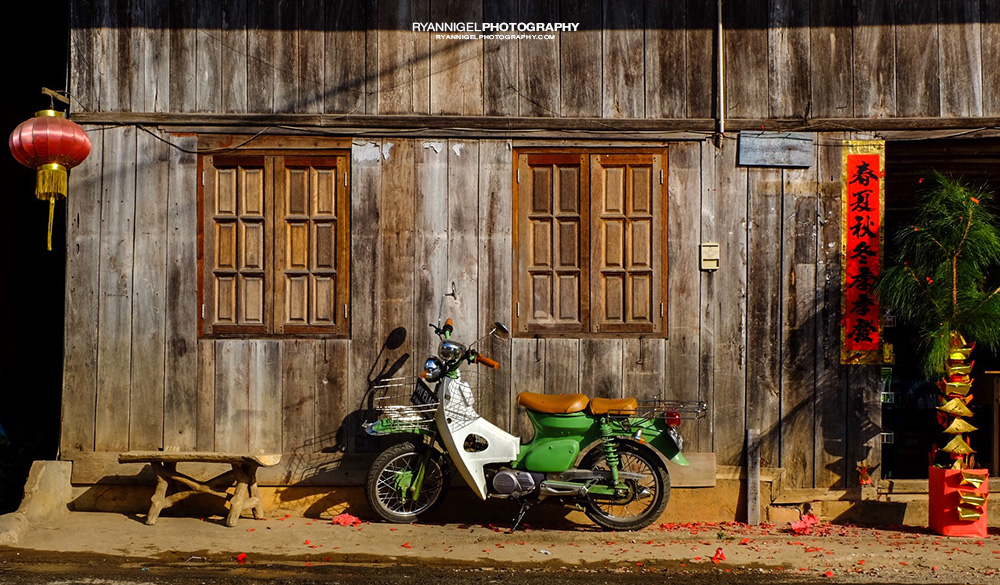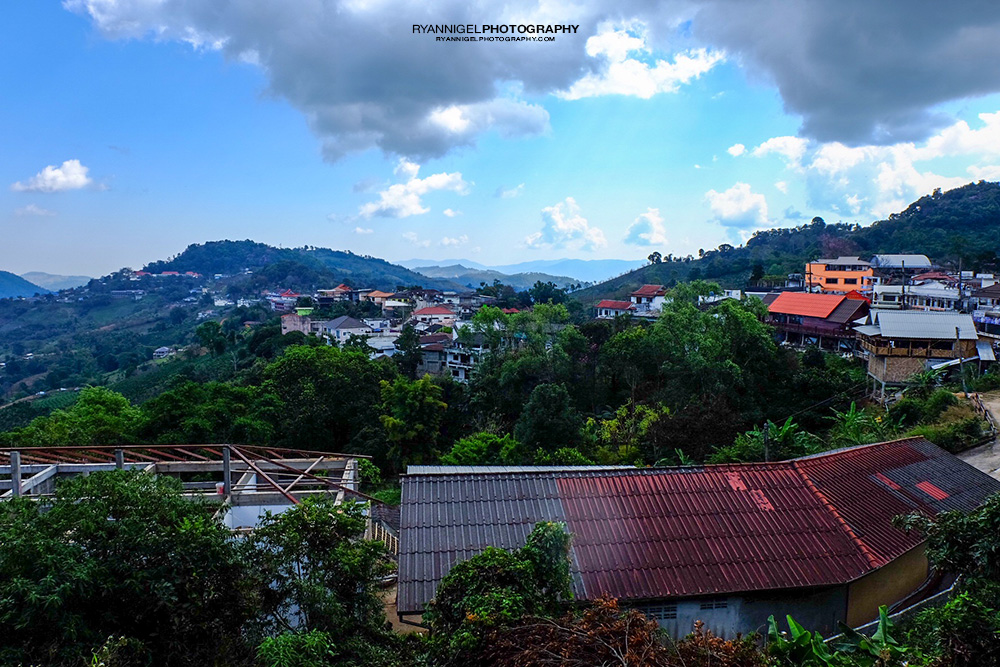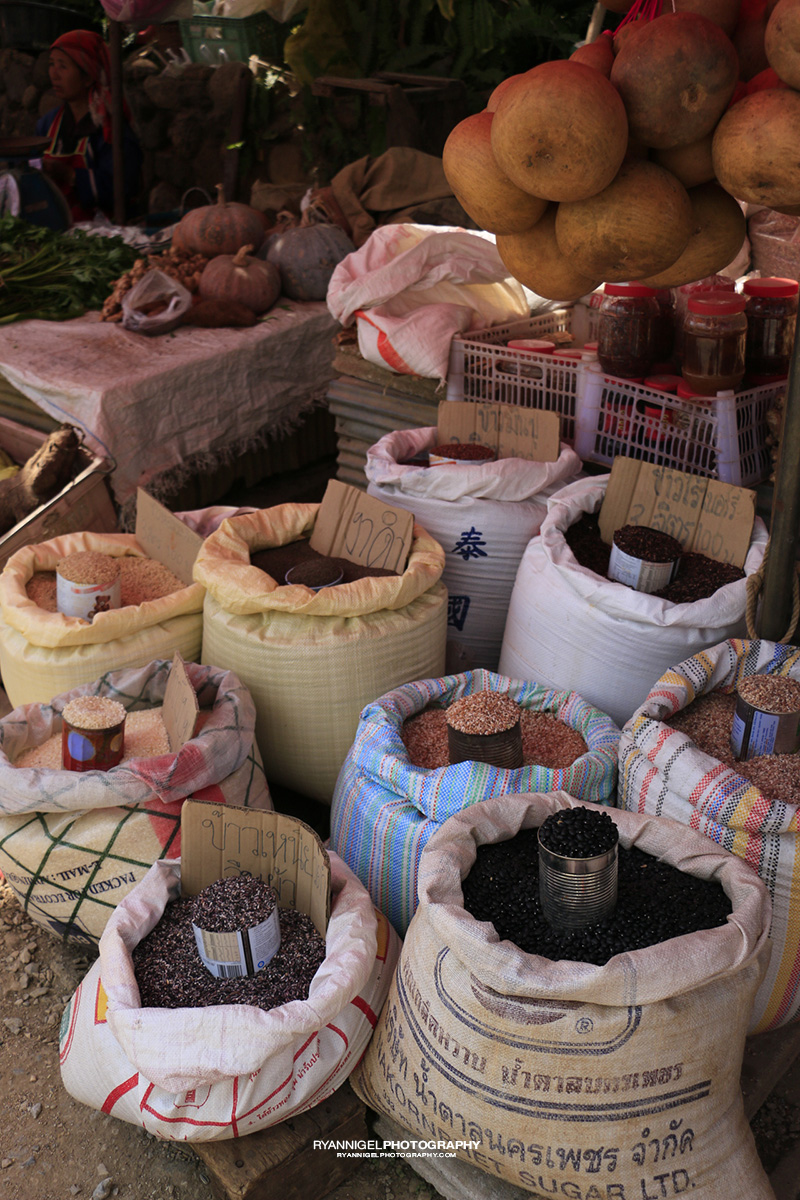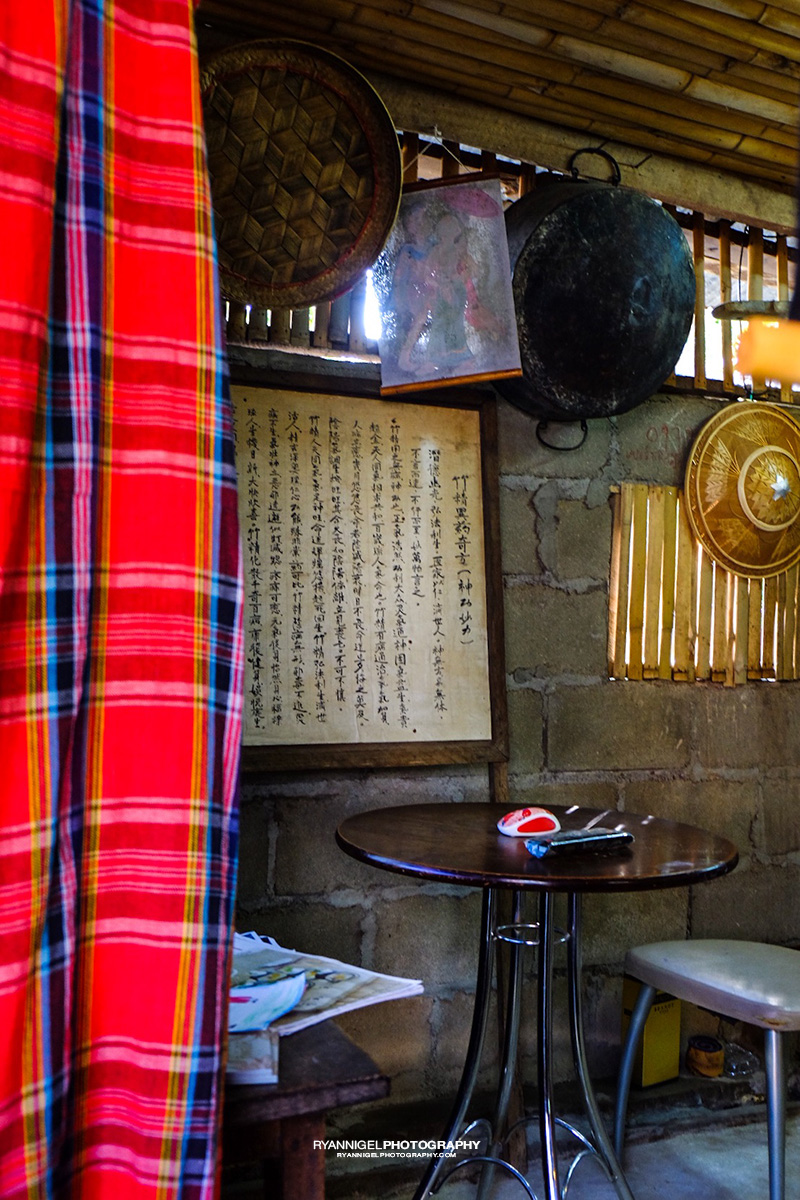 Khun Korn Waterfall
The Khun Korn Waterfall in Chiang Rai is really worth a visit. The waterfall is located about 30 km south west of Chiang Rai Town. Follow the road to the White Temple (see below) and keep following that road. (it's quite easy: there are huge signs along the way)
Once you pass the White Temple the ride becomes nice. Off the highway and follow the zigzag road into the mountains. Just keep following the signs. At the end of the road you will arrive at Khun Korn Forest Park. It's free to get in (well, i didn't pay anything). There is a camping ground and a small shop selling drinks and snacks. The place is well kept clean.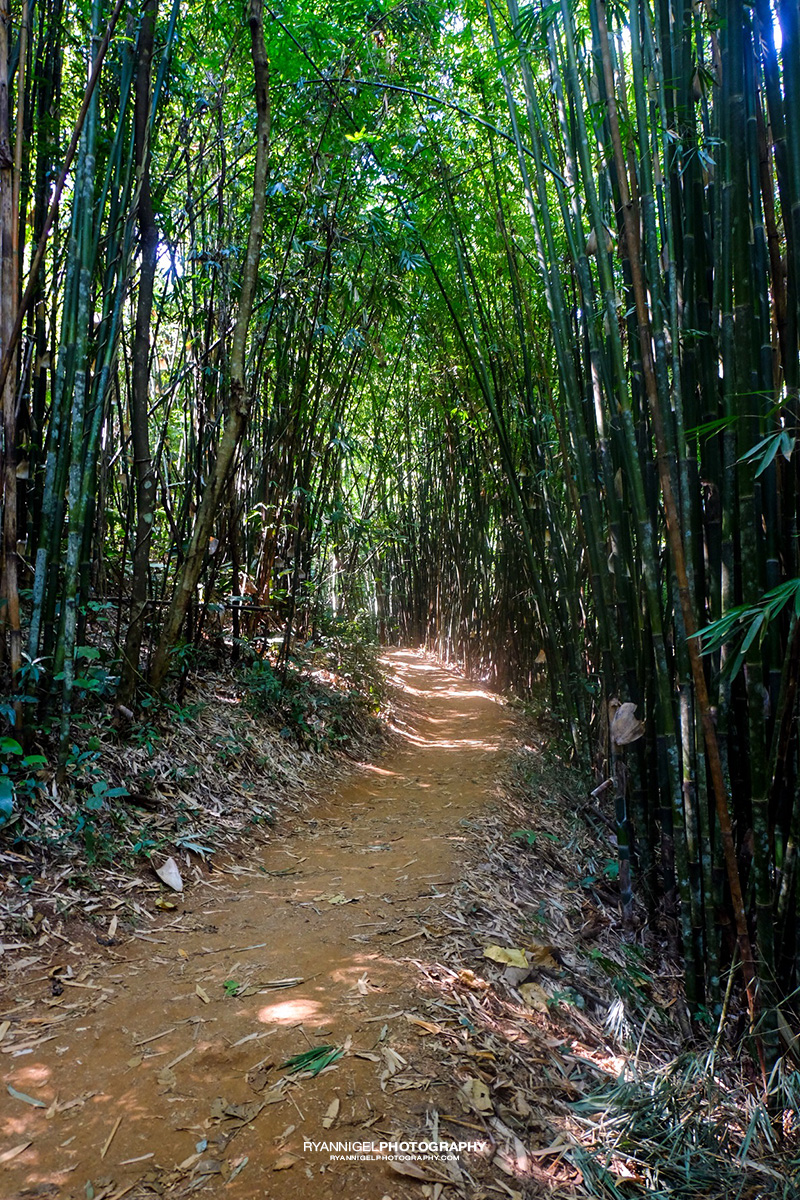 From the entrance it is a 1200m hike to the waterfall. The small hiking trail leads you through the very nice forest park and is of extreme natural beauty. Especially when you come to the Bamboo Forest. Tall and huge bamboo trees.
At the end of the trail the Khun Korn Waterfall is waiting for you. 70m High and water all year. Swimming or bathing is allowed. I can really recommend this place.
More photos.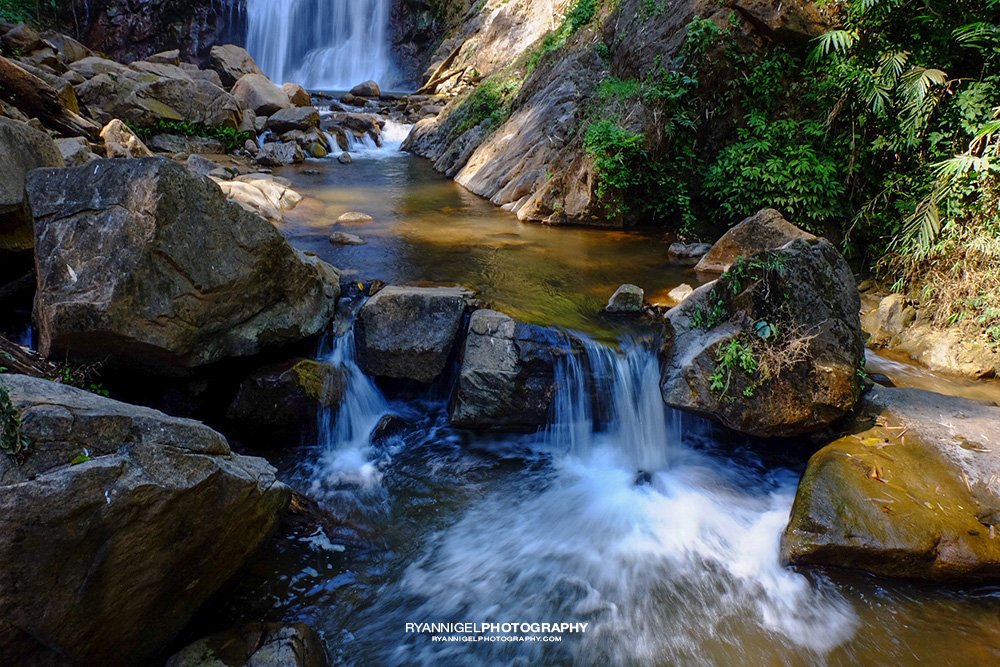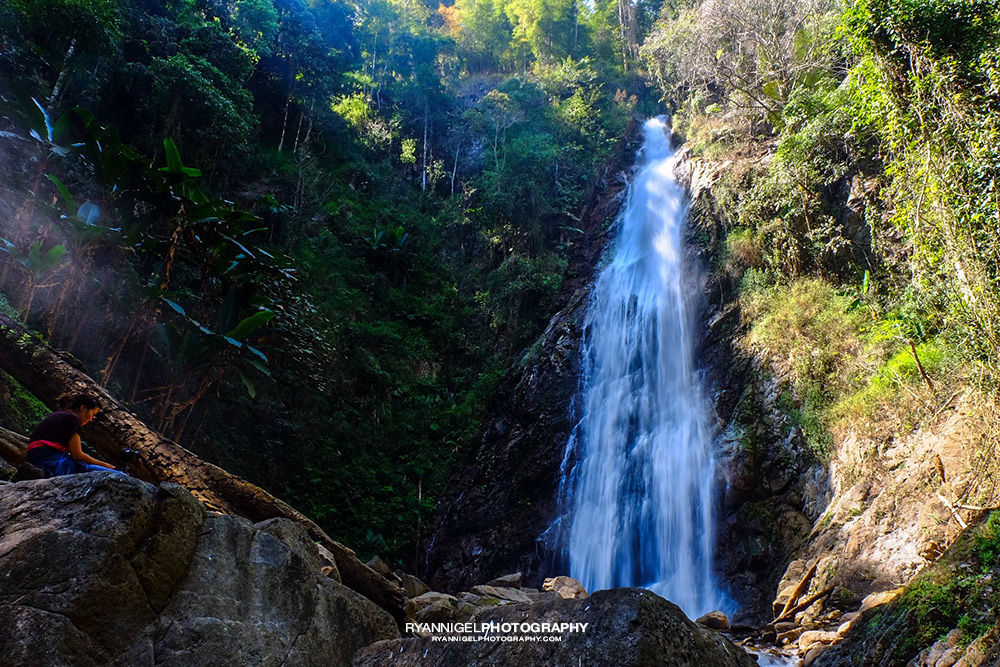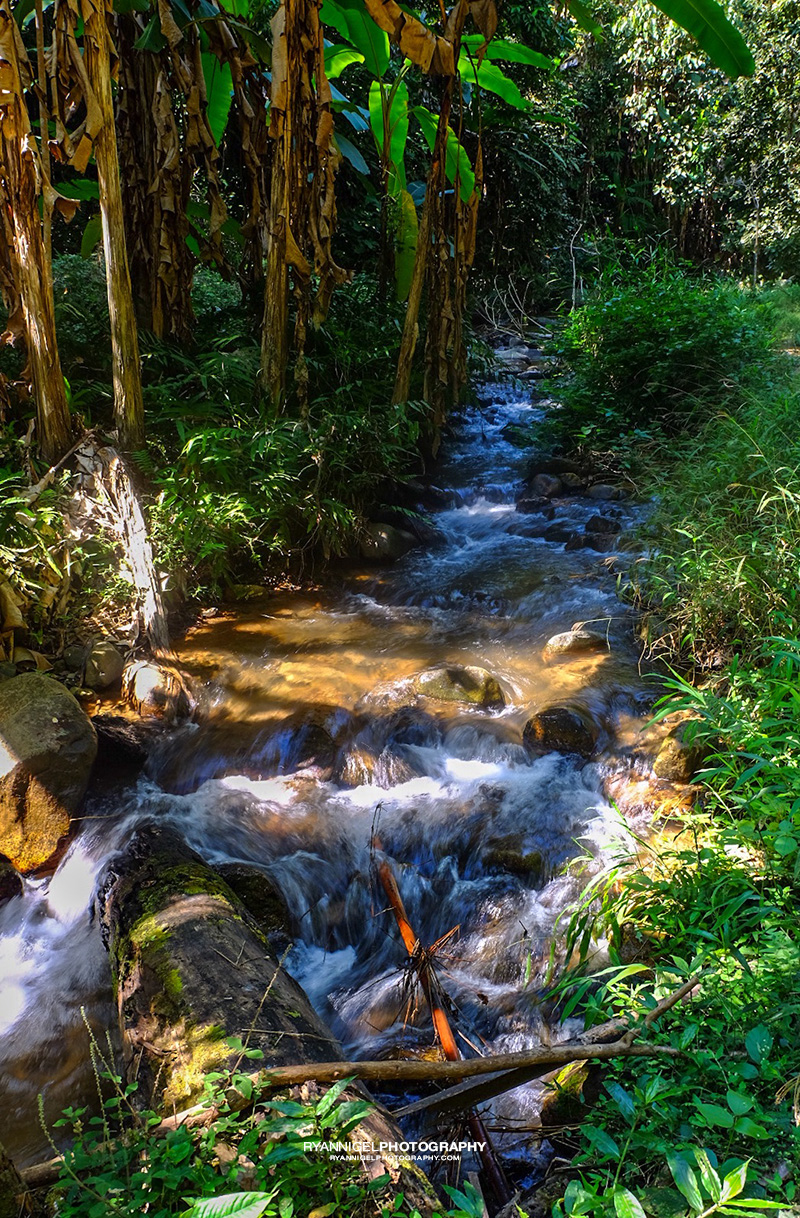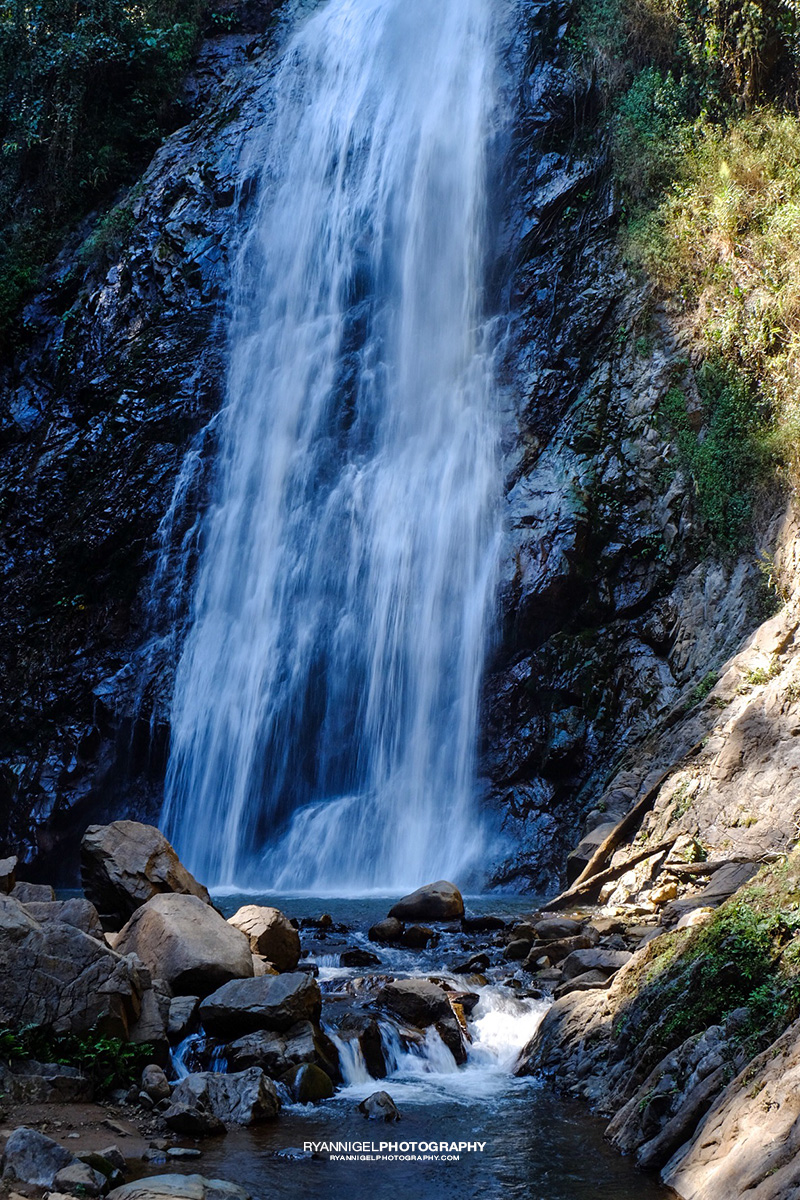 White Temple
The White Temple (Wat Rong Khun) in Chiang Rai is located about 15km south of Chiang Rai. If you come from the Khun Korn Waterfall or go there you can do a quick stop here. IF you come early you can do some photoshooting. But after 10 am it starts to be a tourist trap/place. Sure the complex is nice and looks good, but the complex is loaded with tourists Thais and foreigners alike.
Most people come on a tour package so you can expect bus loads full with people.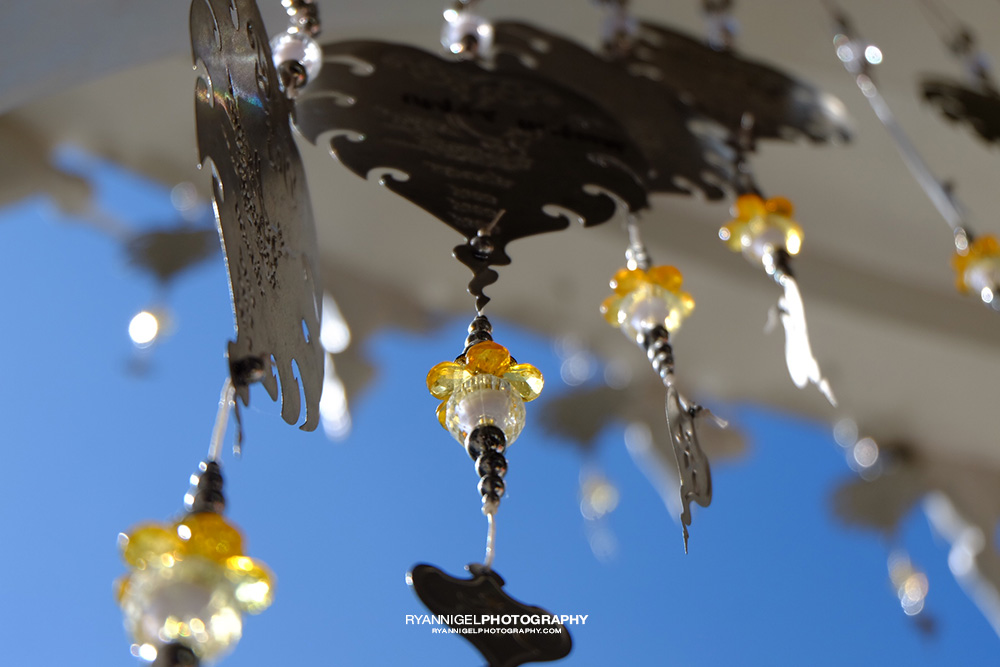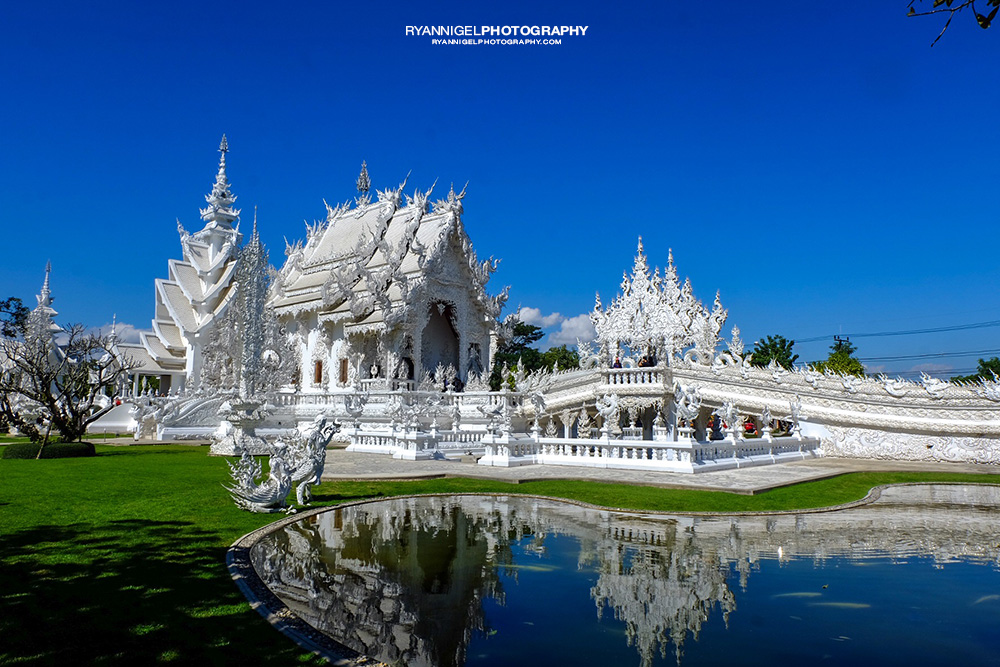 In the links below you can read more about the history of the temple and about the symbolism. The highlight for me where the toilets. I mean, I have lived in Thailand for a long time and these toilets are the cleanest, most beautiful toilets i have ever been in a temple. 🙂 I'm not gonna write more about it because for me it was such a tourist trap that I wanted to leave ASAP and visited the Khun Korn Waterfall instead.
If you interested, click on the links below.
Links: (Click to open in a new window)
Wiang Chai
Coming soon