As mentioned before in other posts, China got lots of natural beauty to offer. This here is Huanglong Scenic Area. It is on the UNESCO World Heritage List and it is really nice to see. Huanglong in is in the Sichuan Province and is located 370 kilometres (230 mi) north-northwest of the capital Chengdu.
Attractions
Due to thousands of years of geological processes Huanglong consists of numerous unique landscapes of geological landforms. Glacial revolution, terrane structure, stratum of carbonic acid rock, tufa water and climatic conditions such as Arctic-alpine sun light have created this world-famous travertine landscape. These accumulated travertine landscapes and pools are Huanglong's main attraction.
Huanglong covers an area of 700 km2 at an altitude between 1700m and 5588m. Major scenic areas include:
Huanglong Valley (黄龙沟)
Danyun Gorge (Chinese: 丹云峽; lit.: 'red cloud gorge')
Muni Valley (牟尼沟)
Xuebaoding (雪宝顶; 'snow treasure peak') – 5,588 m (18,333 ft)
Xueshan Ridge (雪山梁; 'snow mountain ridge') – 4,007 m (13,146 ft), the highest point on the road from Jiuhuang Airport to Huanglong Valley.
Red Star Rock (红星岩)
Sigou (四沟; 'fourth gully')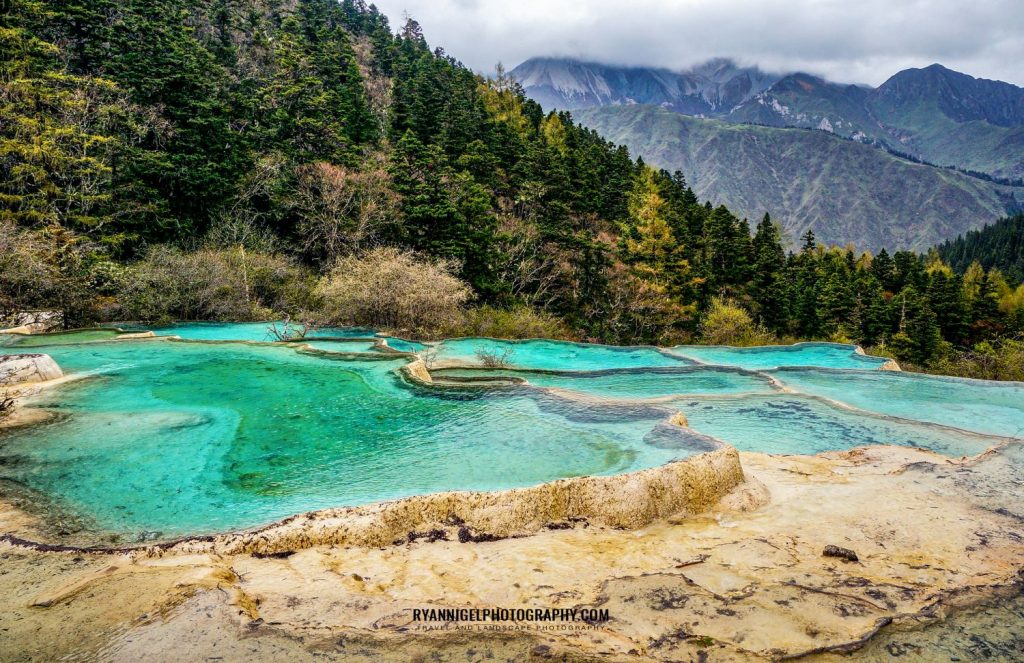 Huanglong Valley
The total length of the travertine in Huanglong Valley is 3.6 km and it is thought to look like a huge golden dragon wheeling through the snow-capped mountains of the valley. The main landscapes are travertine banks, colorful ponds and travertine waterfalls and caves. The main body of water starts from the ancient Buddhist/Benbo temple at the top of the valley and ends at the Guests Welcome Pond in the north with a length of 2.5 km and a width of 30–170m. The colours of Huanglong's waters consist of yellows, greens, blues and browns.
Text: Wikipedia.
The Photos