I have been working as a dive and snorkel guide for years. One of the highlights of my work was seeing sharks. And in this case, baby black tip sharks. How nice…. At Surin Islands Thailand, at Mai Ngam Beach there are lots of baby black tip sharks. The baby black tip sharks hide/live/hunt in the small mangrove forest at the end of the beach.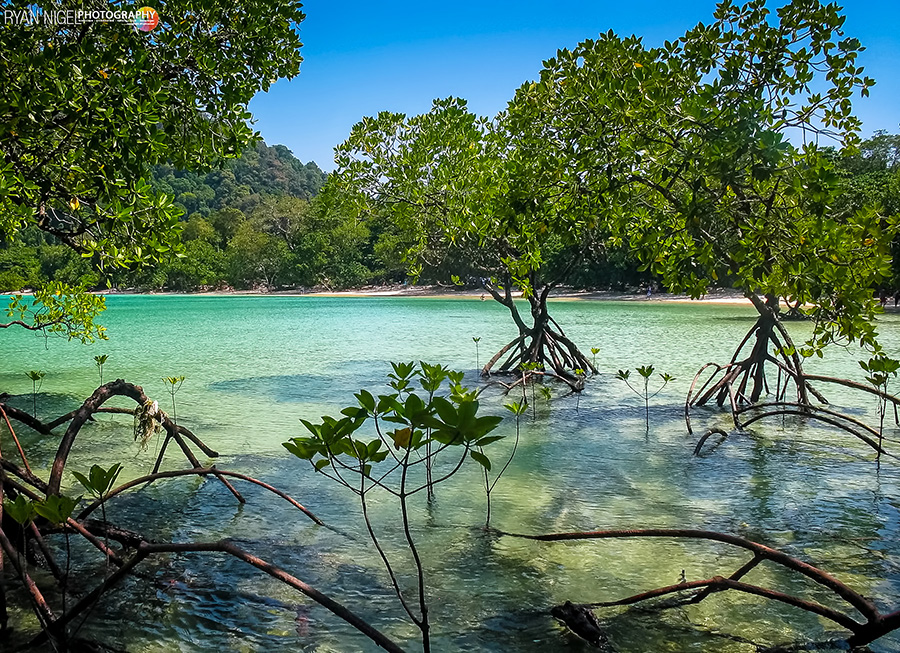 The good thing about Mai Ngam Beach at Surin Islands Thailand is that you can only visit the beach when its high tide. When it is low tide only small longtail boats can come in and the complete bay nearly runs dry. Also the Surin Islands are quite remote for mass tourism. Even from the nearest tourist destination it takes nearly 1,5 hours to get there by speedboat.
If you want to go there and see those baby sharks, make sure you checked the tide table. Some tour companies have lunch on that beach so you can walk just before or after lunch to the mangroves and see the baby sharks.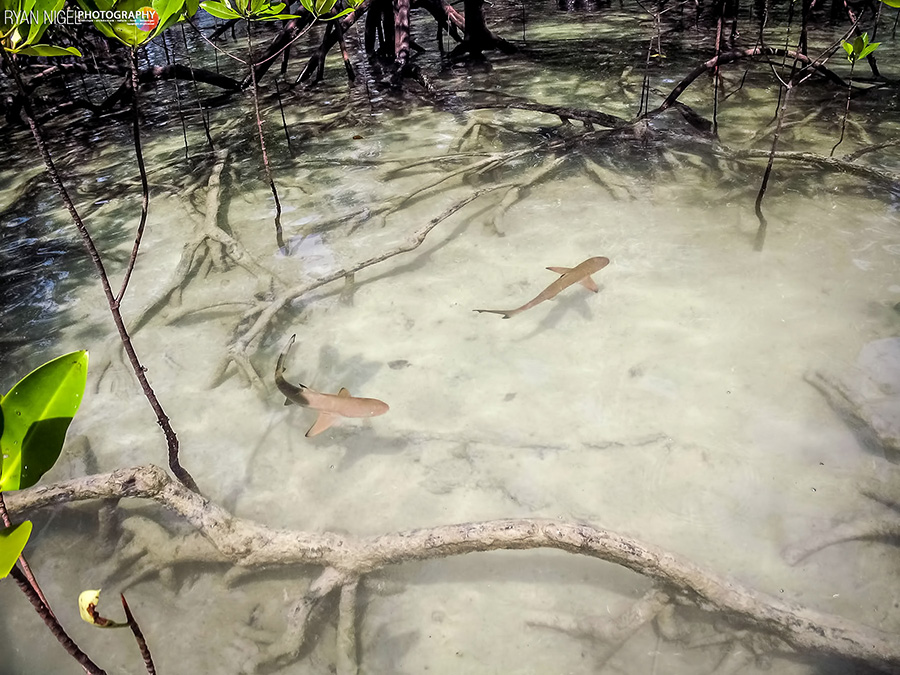 The best way to spot them is to walk into the mangroves, choose a point and stand still. The baby sharks will pass by and swim very close to you. If you are lucky they swim in between your legs or feet. I saw at least 15 baby sharks swimming. It is a really nice experience and the sharks are not afraid at all. Make sure you keep standing still and please don't start screaming 🙂
There is also a possibility to stay overnight in a tent. If you are going for the photo work, I can recommend it because you will have also very nice sunsets and when you bring underwater photo gear, you can snorkel pass the mangroves and follow the baby sharks. Besides that, you have far more time to shoot.
Photo tips.
The photos on my page and in the gallery where shot with a very simple Canon Powershot A610 with the Wide Angle Converter. So the quality is not to good. Since I have lost too much expensive equipment in the water, I always brought this one on tour.
Shooting conditions can be quite harsh, from very bright sunlight reflecting on the water to hard contrasts.
If you are also in the underwater stuff, bring a Sony RX100 mk3 or 4 with Ikelite underwater housing and wide angle dome. (that really gets you THE shots). A dome will correct the flatting effect of water and can give a few mm extra wide angle. Canon Powershot compacts will do fine as well. white balance can be set for auto, since we are shooting just below the surface and not at more than 5m deep (loss of red color).
For surface photography: well anything will do: DSLR, Mirrorless, super compact but make sure you use a CPL filter. Lens can be a 24-70mm zoom or a 18-135 zoom or a standard kit lens. But use a CPL. Tip: due to the landscape I recommend to bring an ultra wide lens, the Canon 10-18mm for example is very nice and won't break your bank account. Pair it with the 18-135mm and you are done.
I have done shots with some of those 'rugged compacts' for some customers. Olympus, Nikon, Fuji, Canon, Pentax they all have one. If you gonna bring one, get the Olympus or Panasonic. They give the best images.
Gallery.
Click to enlarge.
Some more information about sharks can be found here on Shark Reproduction. On this website you can find all info about sharks.