The Rhine Falls (German: Rheinfall) is a waterfall in Switzerland, Europe.
The falls are located on the High Rhine on the border between the cantons of Schaffhausen and Zürich, between the villages of Neuhausen am Rheinfall (SH) and Laufen-Uhwiesen/Dachsen (ZH), next to the town of Schaffhausen in northern Switzerland.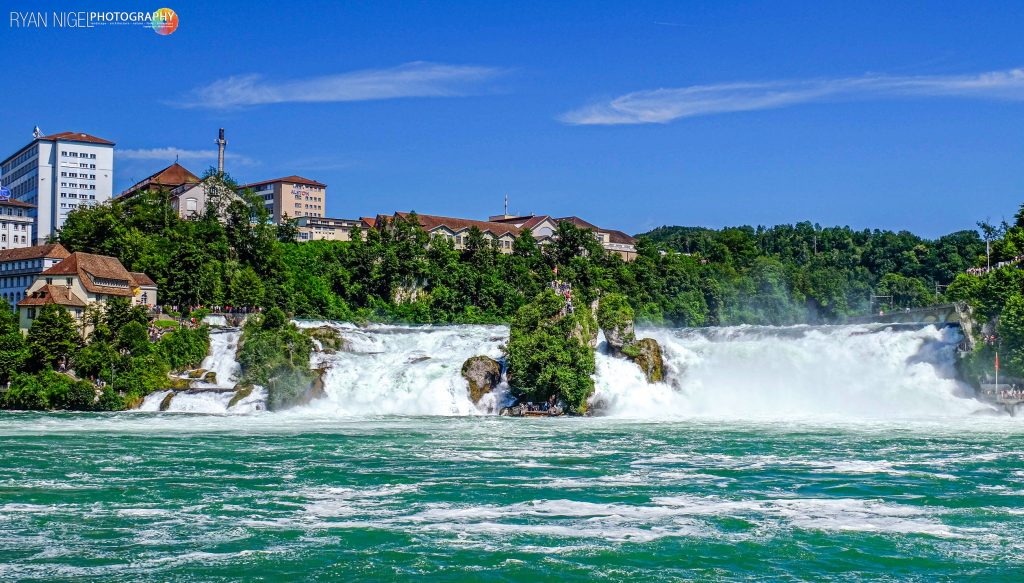 The nearest community is Neuhausen am Rheinfall, where tourists can also view the Wörth Castle. Boat trips can be taken up the Rhine to the falls and the Rheinfallfelsen. There are also viewing platforms with a spectacular view of the falls built on both sides of the Rhine. These are reached via steep and narrow stairs (access by fee on the Schloss Laufen side). Guided tours of various lengths start from Schloss Laufen on the Zürich side of the falls – a youth hostel is also located in Schloss Laufen. Various restaurants are located in Schloss Laufen, Schloss Wörth and the Rheinfall park.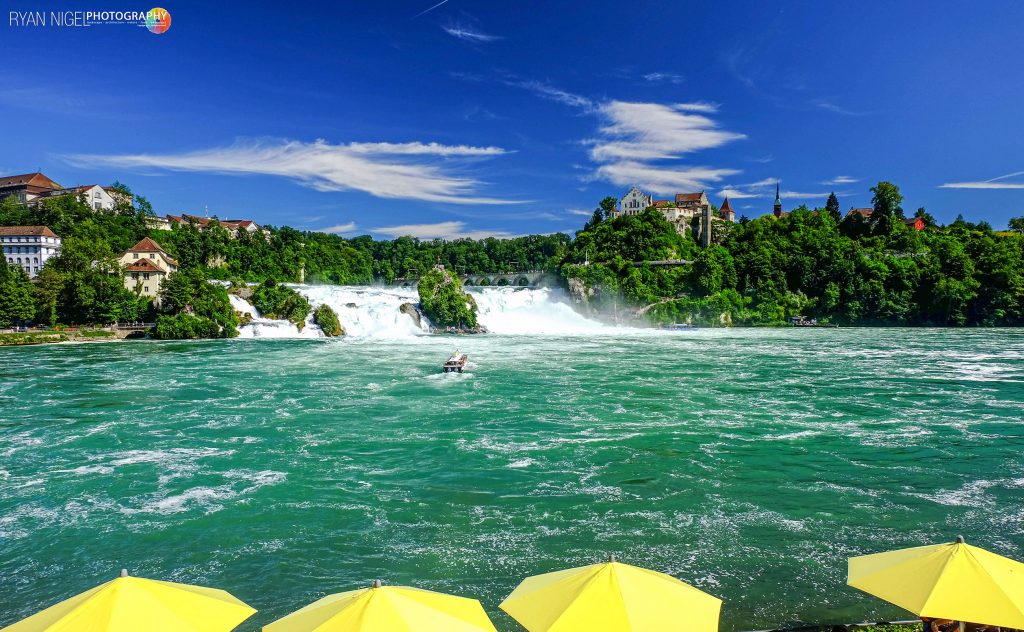 The Rhine Falls are easily accessible by car, bicycle and public transport (SBB railway station "Neuhausen am Rheinfall" on the northern side of the falls and SBB railway station "Schloss Laufen am Rheinfall" on the southern banks of the river). Large pay-parking lots are located on both sides of the falls. (text: Wiki)
Tips:
Plan your visit between April and October as that's when boat trips can be made. For the best experience we recommend May/June because that's when the amount of water peaks;
You can take a boat to the rock in the middle of the waterfalls;
Getting there by train is easy. There are two train stops right next to the falls: 'Schloss Laufen am Rheinfall' and 'Neuhausen Rheinfall'.
If you want to experience the falls even closer, then you can take several boat tours on the Rhine. There's a boat trip to the rock in the middle of the falls, for example. The tours take 10 to 30 minutes, depending on which one you choose.
The scheduled boat services are available from April to October. This also goes for the boat crossing the Rhine, which you will need for the suggested route. However, you can visit the Rhine Fall all year round if you don't need the boats.
More info:
Just look at the photos of Rhine Falls. 🙂 And then pack your bag and visit Rhine Falls Switzerland. 🙂 Great place.